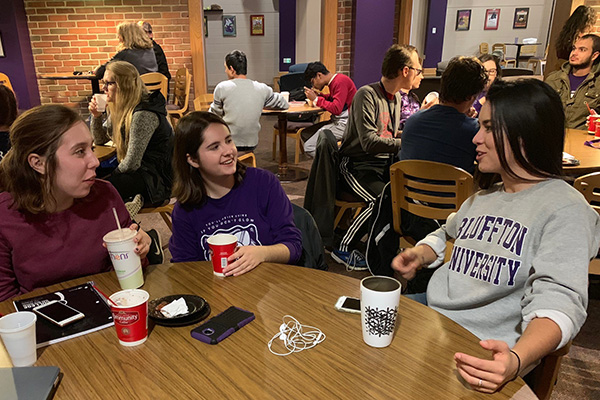 ---
"Hannah showed us that you don't need to feel qualified to do this work, you just need to start and follow through. Spiritual Life Week was both inspiring and challenging... looking at what we can do as the Church and also as people."
Spiritual Life Week
One week each semester is set aside for a special time of focusing on the Christian life. Students play a major role in planning activities that help strengthen growth and faithfulness in our relationship with God. The week includes guest speakers and special times of worship.
fall 2019 Spiritual Life Week: nov 3-7
"Jesus: More than a Feeling"
Theme verse: Colossians 3:4:
"When Christ who is your life is revealed, then you will also be revealed with him in glory.
Featuring guest speaker:
Melissa Florer-Bixler, Pastor, Raleigh Mennonite Church
Day
Event
Location
Time
Arts and lecture?
Sunday, Nov. 3

"Worship Under the Stars"
A time of worship with a short message by Zac Lykins

Ropp courtyard
8 p.m
No
Monday,

Nov. 4

"Turn your eyes upon Jesus"
What does it mean to be a follower of Jesus in today's culture?

Krieder Room

8-9 p.m.
Yes
Tuesday,

Nov. 5

Forum: "Becoming Atheist:
Worship among the gods"
Melissa Florer-Bixler, Pastor, Raleigh Mennonite Church

Yoder Recital Hall
11 a.m.
Yes
Tuesday,

Nov. 5

"We Own This Now"
A Ted and Company play that looks at love of land, loss of land, and what it means to "own" something

Yoder Recital Hall

7 p.m.
Yes
Wednesday,

Nov. 6

"Brownies and Brushes": A guided painting experience led by Jenny Dorsey

Bob's Place

7:30 p.m.
No
Thursday,

Nov. 7

Chapel: "Jesus: More than a Feeling"
Colossians 3:4
Message by Melissa Florer-Bixler

Yoder
11 a.m.
No
Thursday,

Nov. 7

"Creating Safe Spaces within the Church"
Conversation and Q and A with Melissa Florer-Bixler

Stutzman Lecture Hall

8 p.m.
Yes