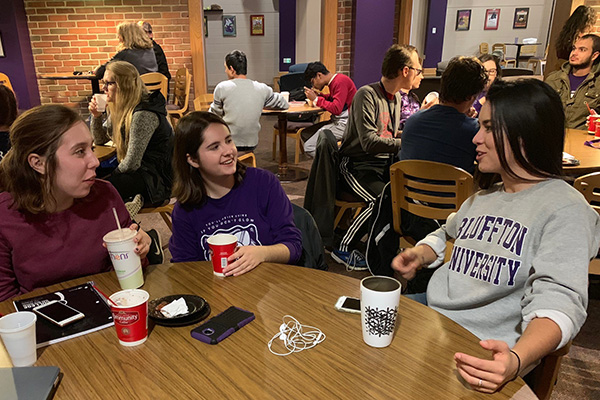 ---
"Hannah showed us that you don't need to feel qualified to do this work, you just need to start and follow through. Spiritual Life Week was both inspiring and challenging... looking at what we can do as the Church and also as people."
Spiritual Life Week
One week each semester is set aside for a special time of focusing on the Christian life. Students play a major role in planning activities that help strengthen growth and faithfulness in our relationship with God. The week includes guest speakers and special times of worship.
fall 2019 Spiritual Life Week
Nov. 3-7
---
Please note: the following schedule is not yet updated from last spring, but can be used as a reference as to how this fall's Spiritual Life Week may be organized.
| | | | | | | | | |
| --- | --- | --- | --- | --- | --- | --- | --- | --- |
| Day | | Event | | Location | | Time | | Arts and lecture? |
| | | | | | | | | |
| Sunday, April 7 | | Spiritual Life Week Kickoff, Coffee and Music with guest musician, Sam Stucky | | Bob's Place | | 8 pm | | No |
| | | | | | | | | |
| Monday, April 8 | | Colors on the Lawn (Tie Dye) | | Library Lawn | | 7 pm | | No |
| | | | | | | | | |
| Tuesday, April 9 | | Forum: What Matters Most | | Yoder Recital Hall | | 11 am | | Yes |
| | | | | | | | | |
| Tuesday, April 9 | | Deep Dive: Exploring Our Generations Call | | Marbeck Center Kreider Room | | 8:30 pm | | Yes |
| | | | | | | | | |
| Wednesday, April 10 | | Movie Night: Courageous | | Stutzman Lecture Hall | | 7 pm | | Yes |
| | | | | | | | | |
| Thursday, April 11 | | Chapel: Reflecting God's Light: Our Generations Call | | Yoder | | 11 am | | Yes |
| | | | | | | | | |
| Thursday, April 11 | | Bumpin' For Jesus: Bubble Soccer | | Founders Hall | | 8:30 pm | | No |