Faculty and staff
Campus events happening this week and next!
Constitution Day Forum
Tuesday, Sept. 17, 11 a.m., Yoder Recital Hall
"The Policy of Stop-and-Frisk"
Judges Sean E. Leuthold '88 and Shane M. Leuthold '92
Chapel
Thursday, Sept. 19, 11 a.m. Yoder Recital Hall
"Do you See Her?" Luke 7:44-50
David Ray, pastor, Jennings Road Church of Christ, Van Wert, Ohio
Ball in the House
Thursday, Sept. 19, 7 p.m., Yoder Recital Hall
Boston based a capella group
Tickets required, $5 for Bluffton faculty/staff
Home athletic events for this week
Women's soccer
Sunday, Sept. 15, 2 p.m., Soccer Field
Vs Hiram
Volleyball
Tuesday, Sept. 17, 7 p.m., Copeland Court
Vs ONU
Football
Saturday, Sept. 21, 1:30 p.m., Alumni Field
Vs Franklin

Community corner
Welcome home!
Homecoming 2019 is only four weeks away! If you plan on attending Homecoming on Saturday, Oct. 12, you can preregister yourself and your family at tickets.bluffton.edu. Your registration includes breakfast and lunch tickets, tickets to the football game and access to all the activities inside Salzman Stadium. There's something for everyone! You may also register the day of at the check-in table. Visit the Homecoming webpage for the full schedule. Contact Claire Clay at clayc@bluffton.edu with any questions.
Faculty Follies
Faculty and staff friends, it's never too early to start thinking about Faculty Follies! This year, the Follies will take place on Wednesday, Oct. 9, at 9:30 p.m. in Bob's Place. Typically we try to have 6-8 acts ranging from musical showcases, to improv sessions. If you would like to be involved, even if you don't want to write your own skit, please contact Kevin White for more information!"
Get to know Bluffton's Students, faculty and staff…
Patrick Spillman '21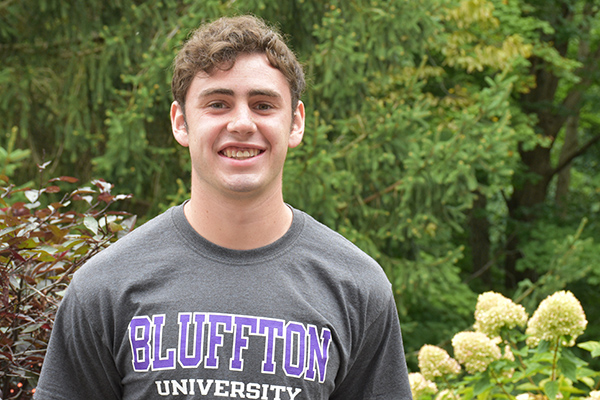 Patrick Spillman '21, a business administration and sports management double major from Anderson, Ind., went into his summer internship with USA Football thinking it would just be a way to complete a requirement for his major at Bluffton University. In reality, the paid internship taught him valuable skills and confirmed his future career path. Read more>>>