Faculty and staff
The weekly Faculty/Staff Coffee continues - just in a different format.
Campus events happening this week and next!
"On Every Street" by Ken Arthur Art Exhibit, Now until Nov. 25: Grace Albrecht Gallery, Mixed Media and found objects
Volleyball vs. Adrian, Oct. 24: 11 a.m. and 1 p.m., Copeland Court
Football vs. Adrian, Oct. 24: 1:30 p.m., Salzman Stadium
Fall Choral Concert, Oct. 25: Pre-concert at 2 p.m., Concert starts at 2:30 p.m. https://www.bluffton.edu/mus/
Cross Country vs. Transylvania, Oct. 25: First race starts at 3 p.m., last race starts at 4:30 p.m, Salzman Stadium
"Everyone Wants a Revolution (but no one wants to do the dishes)" Chapel, Oct. 27: 11 a.m., via zoom, SLW speakers Sarah Arthur and Erin Wasinger
"Antiracism at Bluffton: Work in Process" Colloquium, Oct. 30: 4 p.m., Stutzman Lecture Hall
Updates From Our Campus Community
Bluffton's Fall Play is Virtual: "Alone, Together" is a streamed recording of five short plays addressing the challenges and surprises of social-distancing during a pandemic. Watch online 7:30 p.m., Thursday, Oct. 29; 7:30 p.m. Oct. 30; or 2:30 p.m. Sunday, Nov. 1. For streaming go to https://www.showtix4u.com/event-details/41131. For more information go to https://www.bluffton.edu/about/happenings/theatre.aspx
Participants needed to complete survey for Honors Project: Alana Holsapple is conducting an online survey as part of her Honors Project. For her Honors Project, she is examining student and faculty views of class attendance policies. If you would like to complete Alana's survey, click on the link below. It should take 10 minutes or less. Your responses will be summarized and not specifically attributed to you. Please direct any questions you have to Deanna Barthlow (barthlowd@bluffton.edu). Click on this link to be taken to the survey: https://www.surveymonkey.com/r/YPS3Q2G

Milkweed fall planting: The Sustainability Club will be working on a project this fall. The club came to B&G with a proposal to revitalize a small swale behind Sommer Center. The club will be receiving community help in getting milkweed seeds and will work on clearing out this area and planting the milkweed yet this fall. We look forward to the work that will be done by the club. Thanks to all involved.

Harvest Dinner tickets now available: BUNA will host its annual Harvest Dinner from 4-6 p.m. on Friday, Nov. 6. The event will be held in a drive-thru format this year. Tickets cost $50 and food will be packaged to serve a family of four. For the more information, the full menu and to purchase tickets, www.bluffton.edu/harvestdinner
Health Insurance plan update: The university's health insurance has waived the cost-sharing requirements and have extended the virtual physician visit benefit until Dec. 31, 2020.
Changes in our Campus Community
Sydney Buffenbarger, accounting major and 2018 alumna from Bluffton, joined our campus community in the Financial Aid/Accounts Payable position. She will spend her mornings in the Financial Aid office and then afternoons in the business office doing accounts payable work.
FACULTY/STAFF ACHIEVEMENTS
Phillip Sugden, assistant professor of studio art, sat on an artist panel that included seven professional artists at the University of Findlay on Oct. 16. The panel discussed the topic of art as a language for activism and dissent.
Get to know Bluffton's Students, faculty and staff…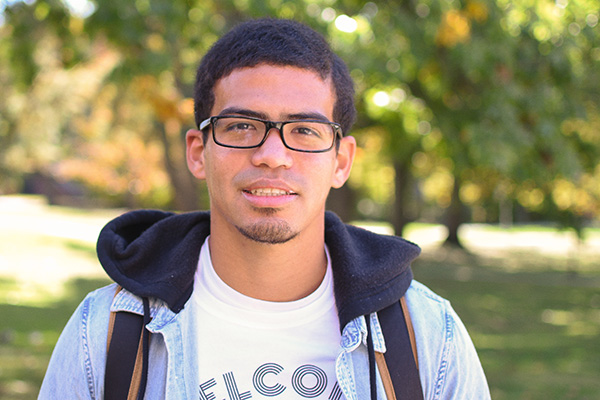 When Sergio Alvarez, a business administration major from suburban Atlanta, first stepped foot on campus he was just dropping off his cousin. Days later, he too was enrolled at Bluffton. "I felt like I was in the right place."