Faculty and staff
Campus events happening this week and next!
Forum Option 1
Tuesday, Nov. 19, 11 a.m., Yoder Recital Hall
"Eyes Wide Open: Reality Bites and How to Deal"
Alaina Shearer, founder, Together Digital
Forum Option 2
Tuesday, Nov. 19, 11 a.m., Stutzman Lecture Hall
"Why Living My Best Life Depends on You"
Jenna Liechty Martin '07, executive director, Camp Friedenswald
Chapel
Thursday, Nov. 21, 11 a.m., Yoder Recital Hall
"A Test of Faith" Genesis 22:1-14
Jayden Groppi '19 Coordinator of children's ministry,
Ginghamsburg Church, Tipp City, Ohio
Colloquium
Friday, Nov. 22, 4 p.m., Stutzman Lecture Hall
"Finding the Empire at Yale"
Cindy Bandish, professor of English
HOME ATHLETIC EVENTS FOR THE WEEK
Men's Basketball
Saturday, Nov. 23, 3 p.m., Sommer Center
vs Heidelberg
COMING SOON
Finals Breakfast!
Believe it or not, finals are just around the corner! That means our Annual Finals Breakfast is rapidly approaching! This year's breakfast will take place at 10 p.m. Tuesday, Dec. 10, in The Commons. We need your help to make this traditional event go as well as it has in the past! We will need faculty and staff volunteers at the following positions: Line Servers, Runners, Dessert Servers, Drink Station and Floaters. Additionally, we will need some folks to sing, as well. If you can help in any capacity, please let Kevin White (whiteK@bluffton.edu) know as soon as possible. Thank you all and best of luck rounding out the semester!
faculty/staff achievements
Randy Keeler delivered the chapel message at Lancaster Mennonite High School on Monday, Nov. 4. His message title was "Whose Fool are You?" from I Corinthians 4:8-14.
Roy Couch was a consultant and provided pre-adjudication comments for the Kalida High School Marching Band as they prepared for state contest. The band is conducted by 2011 alum Jacob Litwiller. They received a superior rating on Saturday, Nov. 9 at state contest in Brunswick.
Jeff Gundy conducted a poetry workshop at the Nelsonville Public Library and a reading at the Dairy Barn Arts Center in Athens, Ohio, with Sean Kelbley and Barbara Fant on Thursday, Nov. 7, 2019; a reading at the Bellefonte Art Museum, Bellefonte, Pa., with Ann Hostetler on Friday, Nov. 7; and preached a sermon titled "Mystery in Plain Sight" at University Mennonite Church in State College, Pa., on Sunday, Nov. 10.
John Burkhart, along with eight business students, attended the Mennonite Economic Development Associates' (MEDA) annual Business as a Calling convention in Tucson, Ariz., from Oct. 31- Nov 3. MEDA's mission is to create business solutions to poverty. The theme of this year's convention was "taking the leap" in life, business and international development.
On the evening of Tuesday, Oct. 29, Philip Sugden, assistant professor of studio art, presented a short talk and created an original artwork at the University of Findlay's Buford Center for Diversity and Service in conjunction with the Focus Recovery and Wellness Community. The topic was "Right Brain Recovery." His presentation and artwork was based on a personal discussion-relationship with an individual in recovery who is part of the Focus recovery program. "Right Brain Recovery" was funded through a grant by the Findlay-Hancock County Community Foundation.
Marathana Prothro participated in a steering committee meeting for the merger of The Mennonite and Mennonite World Review Friday at Goshen College. Prothro was appointed to the committee by the Mennonite World Review Board of Directors, on which she has served since 2016.
At the Council of Independent Colleges Institute for Chief Academic Officers and Chief Advancement Officers, Nov. 2-5, Hans Houshower and Lamar Nisly presented in a session on "Vocational Exploration and Institutional Distinction." They described the vocational discernment built into the new sophomore course Learning in Community as well as the partnership between advancement and academic affairs which led to being awarded the NetVUE grant and increased giving from trustees to support this course.
George Lehman and Gary Schiefer attended the Fall Conference of Region 4 of the Accreditation Council for Business Schools and Programs (ACBSP) on Oct. 24 and 25 in Indianapolis. The topic this year was "Teaching in a Student-Centered World."
Roy Couch was an adjudicator at an Ohio Music Educator Association Marching Band Adjudicated Event on Saturday, Oct. 26 in Swanton. Dr. Couch was part of a jury of nine adjudicators assessing 14 bands in areas of music, percussion, general effect, visual effect and auxiliary.
Get to know Bluffton's Students, faculty and staff…
aBIGAIL NEWKIRK '20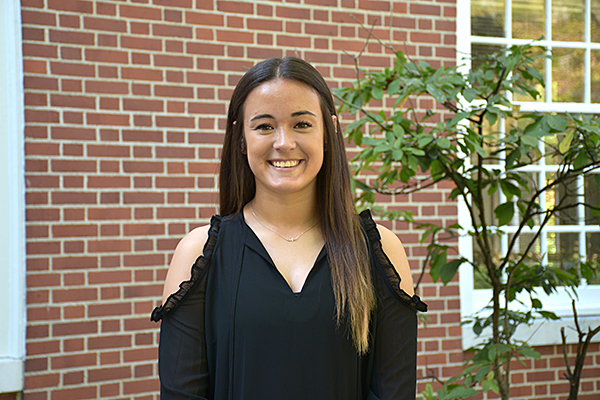 Abigail Newkirk '20, of New Vienna, Ohio, is a speech-language pathology and audiology (SLPA) major who starts every day around 5:30 a.m. She describes her paper planner as a lifeline, and she writes everything down—even eating and sleeping. Newkirk thrives in a "go-go-go" lifestyle, and she wouldn't have it any other way. Read more>>>