Faculty and staff
Campus events happening this week and next!
52nd annual Juried Student Exhibit, April 1–May 5
Mon.-Fri. 9 a.m.-5 p.m., Sat.-Sun. 1-5 p.m.
Grace Albrecht Gallery, Sauder Art Center
Athletic Awards Forum, April 16
"Leveling the Field"
Brad Woodson '89
11 a.m., Yoder Recital Hall

Chapel, April 18
Holy Week Taize-style service, with communion, foot/hand washing, reflection around the cross.
This will be the last Chapel service of the semester.
11 a.m., Yoder Recital Hall

No Classes, April 19-22
Easter Holiday
Classes resume 6 p.m. April 22
Home athletic events for this week (depending on weather)
Baseball, April 20
Vs. Hanover (DH)
Noon and 3 p.m., Memorial Field
Faculty/staff achievements
T.R. Steiner had a ceramic piece accepted into the Ohio Designer Craftsmen "Best of 2019" traveling exhibit. He also won the Ohio Designer Craftsmen Functional Ceramics Workshop Award for Excellence with a soda-fired stoneware teapot entitled "Ordovician's Cultch." The exhibit will be from May 5-July 28 at the Columbus Museum of Art and Sept. 20-Dec. 15 at the Springfield Museum of Art. Former professor Gregg Luginbuhl won this same award some years ago.

During this tax filing season, John Burkhart and two accounting students, Jessica Lovell and Jacob Smith, have been volunteering at the Bluffton Senior Center and a location in Lima for the AARP Foundation Tax-Aide Program. They work on a team of two people to help individuals file their taxes at no charge to them.

Jeff Gundy attended the AWP (Association of Writers and Writing Programs) Conference in Portland, Ore., March 28-30. Along with mingling with 14,000 editors, writers and old friends, soaking up many good words, buying too many books and general schmoozing, a highlight was finding a Bridge flyer on a conference literature table.

Jessie Gibson, senior food and nutrition major, and Meg Short and Robin Bowlus from the admissions office attended the OFIC/AICUO Independent Colleges and Universities Day at the Ohio State House on April 3. They meet with State Senator Matt Huffman's staff, and the new Chancellor of the Ohio Department of Higher Education, Randy Gardner.

Jamie Lyn Smith-Fletcher attended the AWP (Association of Writers and Writing Programs) Conference in Portland, Ore., March 28-30. During the three-day event, she connected with over 100 youth-focused writing organizations and distributed 500+ Bridge "One-Sheets" featuring excerpts of poems, short fiction and memoir in past issues of Bridge: The Bluffton University Literary Journal.

Hans Houshower serves on the board of directors of The Mennonite, Inc. and participated in board meetings in Newton, Kan. March 28-30 where he was appointed vice-chair of the board.

Julie DeGraw was selected to present and moderate a session at the Conversation on the Liberal Arts held at Westmont College. The theme of the conference was "High Anxiety: Liberal Arts and the Race to Success." The session moderated by Julie was titled "Not a Luxury: Identity Studies and Co-Curricular Opportunities as Steps to Success" where she presented her paper "Gender Perspectives: A Case Study of Co-Curricular Programming and its Effect on Identity Development and Anxiety."

Lamar Nisly presented his paper "The Problem of God-talk: How Can Writers Write if Words are Exhausted?" at the national Christianity and Literature conference held at Harvard Divinity School, March 28-29.
Community corner
Findlay Spring Artwalk will be held 5-9 Friday evening, May 3. Seventeen artists' studios will be open in the Jones Building (400 ½ South Main, 2nd floor) which includes Phil Sugden's studio where the Marathon Performing Arts Center's "Wall of Fame" induction will be held live, on camera (in Phil's studio). Phil will be offering, at no cost, the signed and numbered, limited edition reproductions of his new work, "War Mandala." Both the Findlay Art League Gallery and the Marathon Center for the Performing Arts, Fisher Gallery will have receptions as well. There are other venues downtown that will also have exhibits and live music (Coffee Amici and Awakening Minds). All is free and open to the public.
-Phil Sugden
Get to know Bluffton's faculty, staff and students…
ethan zaerr '20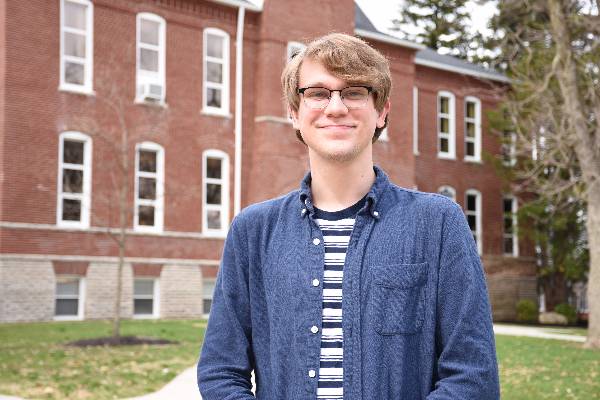 Ethan Zaerr '20, a chemistry and physics double major with a minor in education, is taking a unique approach to pursue his career ambitions in the fields of science and education. Because of the support from his professors at Bluffton, Zaerr hopes to pass on the support and inspire passion in his own students.
Ethan's story>>>