Faculty and staff
The weekly Faculty/Staff Coffee continues - just in a different format.
Updates From Our Campus Community
Mailroom operations over winter break

All USPS incoming and outgoing mail will be processed and delivered as normal through Friday, Dec. 18, and resume on Monday, Jan. 4.
USPS incoming mail will be processed at irregular intervals while the university is closed. Offices needing to pick up mail during this time can make arrangements by e-mailing marbeck@bluffton.edu.


2021-23 Trollinger Endowed Faculty Scholarship Grant
For the 2021-23 academic years the Trollinger Endowed Faculty Scholarship Grant is available providing one six-credit-hour release over a two-year period. Faculty Scholarship Grants are available to any tenured or tenure-track faculty member with a minimum of three years teaching experience at Bluffton University. The guidelines for this grant may be found at: my.Bluffton/resources/facultyresources. Applications for this grant are due Dec. 31, 2020. Please send applications to Michael Barrett, Faculty Development Committee Chair, via Elaine Suderman at sudermane@bluffton.edu.

Community Connection updates: Community Connection will resume on Jan. 7.

Changes in our Campus Community
Dr. Jason Swartzlander, professor of accounting, will serve as interim director of the MBA program this semester. Jason has a wealth of experience in corporations, as a small business owner and as an educator.
FACULTY/STAFF ACHIEVEMENTS
Sherri Winegardner served as a moderator for the panel discussion, "From Pipeline to Frontline: Navigating the COVID Storm" at the fall conference of the Ohio League for Nursing. The panel discussion included nursing education leaders from across the state and emphasized creative strategies employed by schools of nursing to adapt nursing education methodologies to the restrictions imposed by COVID-19 restrictions and new idea opportunities for nursing education and practice.

During the fall semester, Louise Matthews provided programs and/or resources through The Lion and Lamb Peace Arts Center for college classes including Becoming a Scholar, Introduction to Teaching, Social Studies licensure, Issues in Education and Performance Studies. Students attending Bluffton Elementary, Bluffton Middle School and Kenton Elementary participated in programs through technology rather than in-person.


Get to know Bluffton's Students, faculty and staff…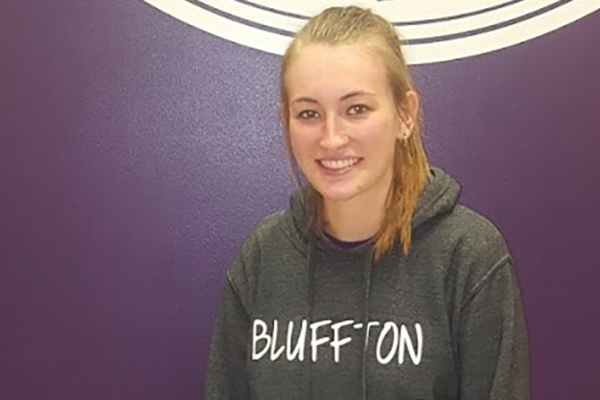 Inspired by the teachers she had as a high school student in Ottawa, Ohio, English major Madison Heckman '21, also hopes to inspire her future students. Heckman is earning her adolescent/young adult licensure to teach grades 7-12, completing her student teaching experience and graduating a semester early from Bluffton University.
"My favorite high school teachers went to Bluffton. They were really great at what they did, so I figured if I want to be a teacher, I better go to Bluffton as well," explained Heckman of her college decision.