Faculty and staff
The weekly Faculty/Staff Coffee continues - just in a different format.
Campus events happening this week and next!
The latest information regarding Bluffton's response to COVID-19 concerns is available online.
Other news...
Commencement speaker
Dr. David Yost '83 will address the 2020 graduating class at Commencement on July 18. Yost majored in biology at Bluffton and earned his M.D. from the University of Arizona's College of Medicine in 1987. In 1990, he joined the U.S. Public Health Service as a physician for the Indian Health Service on the Fort Apache Indian Reservation where he served for 22 years. In 2012, Yost accepted a position to work directly for the CDC and the Puerto Rico Department of Health to help construct a control program for tuberculosis. He and his wife Laurie (Kauffman '82) reside in Northern Arizona where he provides medical services to residents of the Navajo Nation in remote locations
Faculty/staff achievements
Roy Couch presented clinics and provided pre-adjudication comments at several regional schools. He was also an adjudicator at the District 4 OMEA Large Group Contest on March 6-7 at Olmsted Falls High School. Bands perform three pieces and a panel of three judges rates them according to OMEA standards and award ratings from I – V.
Jeff Gundy read poems at Case Western Reserve University in Cleveland on Friday, Feb. 21, 2020, co-sponsored by Writers House.
Lawrence Matthews assisted students and parents at Lima Senior high school with completing the FAFSA for the 20-21 academic year on Monday, March 2. The program was supported by a FAFSA completion grant, awarded to the city of Lima from the Ohio Mayor's Alliance to be used to boost Ohio's educational attainment rates. Financial aid officers from other area colleges also assisted.
Heidi Mercer presented at the Thriving Families conference - presented by the Hancock Co. System of Care Grant on March 2. Heidi along with junior social work major Alexus Sponseller led a workshop entitled "ACES: Reconstructing Adversity" to 40 participants.
Heidi Mercer presented a Human Trafficking and Trauma response training to Blanchard Valley Health Systems forensic nursing program for their quarterly meeting on March 4.
Heidi Mercer completed facilitator training with The Findlay-Hancock Co. Community Foundation and The United Way for their 2020 Community Conversations to be held the first week of April. Community Conversations are an initiative to get the voice of community members and what they believe are the needs of the community. If you live in Findlay or Hancock Co and would like to host a conversation, be a facilitator or volunteer for the conversations, please visit https://www.liveunitedhancockcounty.org/community-conversations
Melissa Michal read at Bexley Public Library in Columbus, Ohio, on the evening of Feb. 10.
Deb Myers participated in the Academy of Nutrition and Dietetics' Commission on Dietetic Registration's Item Review Workshop in Chicago, Feb. 21-23, 2020. Participants from around the country spent three days writing and evaluating test questions for the national registration examination for dietitians.
Get to know Bluffton's Students, faculty and staff…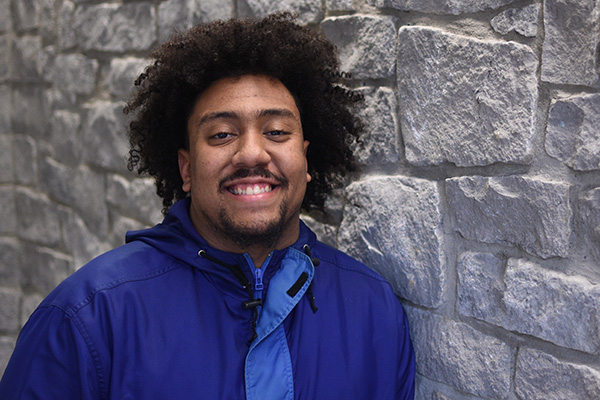 Von Thomas came to Bluffton to play football. While he enjoyed his four seasons on the gridiron, he also values the relationships he formed and the lessons learned along the way.