Faculty and staff
Campus events happening this week and next!
Chapel
Thursday, Jan. 23, 11 a.m., Yoder Recital Hall
"The Power of Practice", Deuteronomy 6:1-12
Christina Bohn, United Methodist pastor, Pickerington, Ohio
HOME ATHLETIC EVENTS FOR THE WEEK
Men's Basketball
Wednesday, Jan. 22, 7:30 p.m. Sommer Center
vs. Manchester
Changes in our campus community
Dr. George Lehman, professor of business, has announced his plan to retire this summer. George completed his doctorate in management from Case Western Reserve University and has taught at Bluffton since 1994. Before coming to Bluffton, he served as director of Prairie View Hospital, a mental health facility in Kansas. At Bluffton University, he has held many departmental and faculty governance leadership positions, including key roles in beginning our MBA program and establishing a collaborative MBA program with other Mennonite colleges. Most recently he has been serving as chair of the business studies department and director of the collaborative MBA program. We have benefitted from George's creative and innovative thinking about ways to expand Bluffton's offerings while always being deeply committed to our mission. He has a gift for testing ideas and hearing direct feedback with good humor and an evident desire to encourage the group to work toward the best solution. We wish him very well in retirement.
faculty/staff achievements
"On the Green Trail", musical settings by Lori Laitman of Jeff Gundy's poems "On the Green Trail", "Looking at My Hands" and "Small Night Song from Oneanta" is on Lori's new CD Living in the Body.
Through The Lion and Lamb Peace Arts Center, Louise Matthews presented 72 sessions during the fall semester. Programs held at the center included students from Bluffton Elementary and Middle Schools, Wapakoneta High School, Liberty Arts Magnet and Alumni Sustainability Network as well as ten Bluffton University classes. Off-campus opportunities included programs at Bath Elementary, Kenton Elementary, Liberty-Benton Elementary, Mennonite Memorial Home, Maple Crest, First Mennonite Church and Andrews House of Hope. Together, Diane Neal and Louise led monthly literature and art sessions with incarcerated youth at the Allen County Juvenile Detention Center. Numerous forum speakers, campus guests, prospective students and families also visited the center.
Get to know Bluffton's Students, faculty and staff…
Wilmar Caal Botzoc '21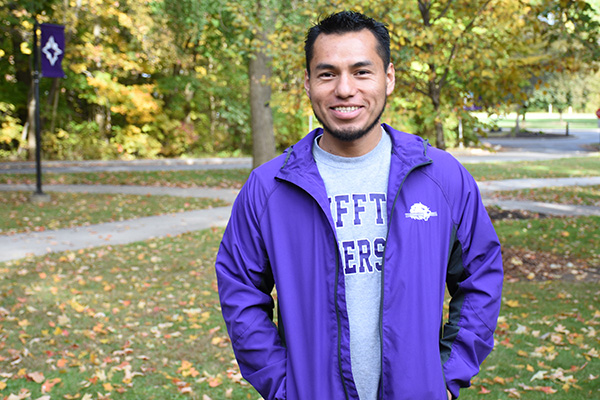 Junior Wilmar Caal Botzoc first stepped foot in the United States in 2011. A year later, he returned home to Guatemala only to be called back to the U.S. – solely to attend Bluffton University.
Wilmar's story >