Current Students
Dates to note
Flu Shot Clinic, Sept. 25: 11 a.m.-2 p.m., Sidewalk between Marbeck and Founders (see news and updates section for more information)
Colloquium by Dr. Amy Mullins, Sept. 25: 4 p.m., Stutzman Lecture Hall-"They Can't Read so What Are You Going to do About it?"
Marbeck After Dark, Sept. 25: 8 p.m., Bob's Place-Video Game Night
Marbeck After Dark, Sept. 26: 7 p.m., Bowl-For-A-Buck at Southgate Lanes
Sunday Sports Series, Sept. 27: 2 p.m., Neufeld Lawn-Tennis Ball Golf
Forum, Sept. 29 (A&L)- 11 a.m., Advising Forum (First-year students will be notified where to go)
Intramurals Sept. 29: 9:30 p.m., Copeland Court
Colloquium will continue!
Colloquia will be held Friday at 4 p.m. in Stutzman Lecture Hall in Centennial Hall. Alas, seating will be limited to the hall capacity-so come early! Attendance will also be limited to Bluffton students, staff, and faculty.

Sept. 25: They Can't Read: So What Are You Going To Do About It? by Amy Mullins
Oct. 16: Some Notes on Wind Farming by Jeff Gundy
Oct. 30: Panel Discussion, Antiracism at Bluffton: Work in Process
Nov. 13: Rediscovering and Reclaiming the Social in the Gospel by Chris Morrissey
News and updates from the campus community
Virtual Graduate School Fair: The 2020 Bluffton University Virtual Graduate School Fair will be held 11 a.m.-1 p.m. Thursday, Oct. 1. Some of the institutions that plan to participate include the University of Toledo, Ursuline College and Ohio Northern University's Pettit College of Law. To participate, you must register via College Central Network. The registration deadline is Friday, Sept. 25.
Have some free time? Join the tennis club. Contact advisor, Louise Matthews

matthewsa@bluffton.edu

to be added to the contact list.

Need a flu shot? CVS Pharmacy in Bluffton will hold walk-up flu shot clinics on campus on Friday, Sept. 25 and Friday, Oct. 16 from 11 a.m. to 2 p.m. The clinics will be held on the sidewalk between Marbeck Center/Founders and the Sommer Center. Students can pay $25 (cash only) and must show a photo ID. Students who prefer to have the flu shot covered by insurance can go to the CVS Pharmacy on Main Street at any time.

Counseling services transition:

We now have 5 part-time counselors offering hours. Those counselors are Danielle Finch, Laurel Weaver, Dr. Sarah Lindaberry, Deanna Barthlow-Potkanowicz and Heidi Mercer. Please continue to contact Amber Smith at counseling@bluffton.edu

to make an appointment. The Counseling Center is located across the sidewalk from Sauder Visual Arts Building. You'll see a directional sign for the center by the Peace Pole.
Improv Sessions: It's time for Improv! Stretch your creative muscles at our weekly Improv sessions on Zoom every Monday at 8 p.m., where we play fun and easy-to-learn improv and other theatre games. Contact Dr.

Melissa

Friesen at

friesenm@bluffton.edu

Refer to the Student Community Connection for the Zoom address.
Dining Service updates
Dining Services has certainly looked different this year. Our initial focus was on ensuring safety guidelines, implementing the take-out option and reducing service times. We have appreciated student comment on what has been missed as a result.
Changes that the dining services have made or are working on: Wraps are back as an option at the Deli, a touchless beverage dispenser for juice and hopefully for coffee, adding more student favorites, additional varieties of pizza, 1 variety of soup daily, increasing the variety of the pre-cupped items at the salad station, and allowing 2 servings from the Main Line for To-Go orders.
Answers to Frequently Asked Questions!
Where is the Student Health Center and what services are offered? In the lower level of Old Ropp Hall. The entrance is on the Riley Creek side. Minor health concerns - such as nausea, diarrhea, headache, minor scrapes and cuts, etc. - can be addressed at the Student Health Center by appointment. Office hours are Monday-Friday, 10 a.m.-2 p.m. Sherri Winegardner, DNP, RN, MSN, MHA, will provide in-person consultation and telehealth services. Students must call for an appointment before coming to the Student Health Center, 419-358-3282.
What are Beaver Bucks and how do I use them? Beaver Bucks are an alternative to cash that are placed on your student ID. They can be used in Bob's Place and at Freshens! Unlike the meal plan option, these Beaver Bucks are available from year to year as long as you are a student, faculty or staff member of Bluffton University.
Campus jobs
Available jobs: To see what student campus jobs are available, go to Student Campus Jobs Here you will find current student job openings.
Fitness Center is now open
Hours:

Monday-Thursday: 6 a.m.-8 p.m.
Friday: 6 a.m.-6 p.m.
Saturday: 9 a.m.-noon
Sunday: 6-8 p.m.

Note the following new COVID-19 related expectations:

Capacity in the Fitness Center is limited, mask are required, maintain six feet of distance, unless instruction/safety requires close interaction with an instructor/coach. Partners exercising together and sharing equipment must maintain group separation from others, and equipment must be wiped down by users before and after use.
Tech Center changes for fall semester
Hours:


Monday, Wednesday and Friday from 7:30 a.m.-11 a.m. and noon-10 p.m.
Tuesday and Thursday from 7:30 a.m. to 10 p.m.
Saturday CLOSED
Sunday from 6-10 p.m.
Student organization Spotlight
Bluffton Education Organization (BEO) is an academic club created to develop an understanding of the education profession, to advance the interest and welfare of students preparing for a career in education, and to stimulate the highest ideals of professional ethics, standards, and attitudes in prospective educators. BEO hosts monthly events on Bluffton's campus that focus on different aspects of the education field. If you are interested in joining BEO, please email BEO President Makenzie Speakman at spemba@bluffton.edu or BEO Advisor Gayle Trollinger at trollingerg@bluffton.edu
We Are Beavers All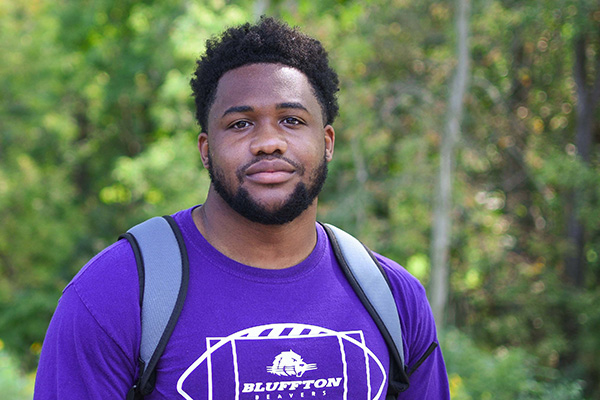 In his senior year, Darian Greeley's goal is to give back. The criminal justice major from Detroit, Mich., was recently named president of Bluffton's Multicultural Student Organization."I'm a big believer in giving back to the community. We have goals for MSO to do more community work," said Greeley. We're a family. I want everybody to see that." Learn more about Darian Greeley's Story