Current Students
Dates to note
Spiritual Week, Oct. 25-29: Spiritual Week Events
"Everyone Wants a Revolution (but no one wants to do the dishes)" Forum, Oct 27 (A&L): 11 a.m. & 8 p.m., Various Locations
Intramurals, Oct. 27: 9:30 p.m., Copeland Court
Colloquium will continue!
Colloquia will be held Friday at 4 p.m. in Stutzman Lecture Hall in Centennial Hall. Alas, seating will be limited to the hall capacity-so come early! Attendance will also be limited to Bluffton students, staff, and faculty.


Oct. 30: Panel Discussion, Antiracism at Bluffton: Work in Process
Nov. 13: Rediscovering and Reclaiming the Social in the Gospel by Chris Morrissey
News and updates from the campus community
Bluffton's Fall Play is Virtual: "Alone, Together" is a streamed recording of five short plays addressing the challenges and surprises of social-distancing during a pandemic. Students can join us at 7:30 p.m. on Thursday, Oct. 29 in Stutzman Lecture Hall for a free viewing of "Alone, Together" followed by a talk-back with cast and crew members – no ticket necessary for this event. Or watch online 7:30 p.m., Thursday, Oct. 29; 7:30 p.m. Oct. 30; or 2:30 p.m. Sunday, Nov. 1. For your free streaming code, go to www.bluffton.edu/fallplay
Center for Career: Will host an upcoming workshop series entitled, "Telling Your Story". The purpose of this workshop series is to assist you in "Telling Your Story" in an effective way to focus on your strengths, gifts, and talents. Each workshop session will be held in the Centennial 210 from 7-8 p.m. Arts and Lecture credit will be provided for attendance.

The following is a list of workshops to be hosted:

Workshop #1: Resume and Cover Letter Writing- Oct. 28
Workshop #2: Interviewing for Success- Nov. 4
Workshop #3: Learn to "Link" your LinkedIn Profile- Nov. 11
Internships in Washington, D.C: Register for the Washington Community Scholars' Center's virtual event to learn how a semester-long internship in Washington, D.C. can help you gain work experience and mentorship and build community and engage with people who are different from you. The virtual event is at 3 p.m. Tuesday, Oct. 27. Register at https://cutt.ly/hgtnhk9


Answers to frequently asked questions!
How do I access counseling services on campus? Did you know that counseling services offered on campus are free for students? Appointments may be made by calling the student life office at 419-358-3247 or by email at counseling@bluffton.edu.


Campus jobs
Available jobs: To see what student campus jobs are available, go to Student Campus Jobs Here you will find current student job openings.

Fitness Center
Hours:

Monday-Thursday: 6 a.m.-8 p.m.
Friday: 6 a.m.-6 p.m.
Saturday: 9 a.m.-noon
Sunday: 6-8 p.m.

Note the following new COVID-19 related expectations:

Capacity in the Fitness Center is limited, mask are required, maintain six feet of distance, unless instruction/safety requires close interaction with an instructor/coach. Partners exercising together and sharing equipment must maintain group separation from others, and equipment must be wiped down by users before and after use.


Tech Center
Hours:


Monday, Wednesday and Friday from 7:30 a.m.-11 a.m. and noon-10 p.m.
Tuesday and Thursday from 7:30 a.m. to 10 p.m.
Saturday CLOSED
Sunday from 6-10 p.m.


We Are Beavers All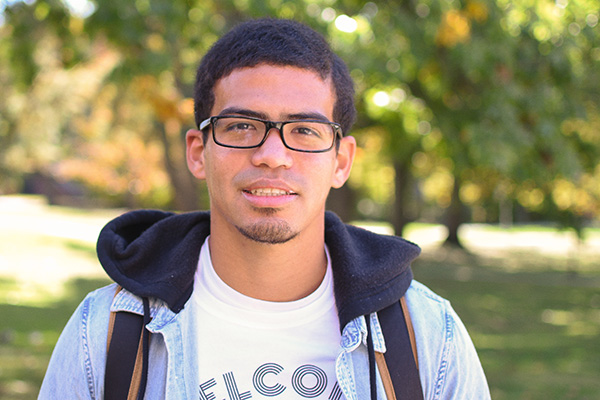 When Sergio Alvarez, a business administration major from suburban Atlanta, first stepped foot on campus he was just dropping off his cousin. Days later, he too was enrolled at Bluffton. "I felt like I was in the right place."