Current Students
Events happening this week and next!
Chapel
Thursday, Jan. 23, 11 a.m., Yoder Recital Hall
"The Power of Practice", Deuteronomy 6:1-12
Christina Bohn, United Methodist pastor, Pickerington, Ohio
Thursday Night Spotlight
Thursday, Jan. 23, 9:30 p.m., Bob's Place
PALS, Rae Staton
home Athletic Events for the Week
Men's Basketball
Wednesday, Jan. 22, 7:30 p.m. Sommer Center
vs. Manchester
OTHER IMPORTANT EVENTS
Are you interested in being an RA?
Are you currently an RA and would like to rejoin our team? Or are you a student that would like to get involved in Residence Life? Selection to RA's & HD's will be starting soon. Please look through the timeline:
Returning RA application & references: Must be Submitted by Friday, Jan. 24

Hall Director applications, cover letters & resumes: Must be submitted by Thursday, Jan. 30

New RA informational meetings: Tuesday, Feb. 4, 5:45 p.m. – 7:15 p.m., Centennial Hall 113

New RA informational meetings: Thursday, Feb. 7, 5:45 p.m. – 7:15 p.m., Kreider Room

New RA applications: Must be submitted by Tuesday, Feb. 7


~Tyson Goings, director of residence life
Lip Sync Battle
Back by popular demand this year will be our Lip Sync Battle! Compete to win the elusive Lip Sync Battle Beaver Belt by yourself, or with a group of friends! We are excited for this event to grow, and hope to have a lot of you involved this year! The event will be Sunday, Feb. 26, but sign ups are Monday, Jan. 20 – Thursday, Jan. 23, at the Spot in Marbeck. Check out some clips from last year's event provided by The Wit. http://blufftonwit.com/mcb-and-mso-host-lip-sync-battle/ ~Kevin White & Tyson Goings
2020-2021 C. Henry Smith Peace Lectureship
The C. Henry Smith Trust Directors have announced the 46th annual C. Henry Smith Peace Lecture. A committee composed of the Directors of Peace Studies and Academic deans of Goshen College and Bluffton University will select a scholar to prepare and present a peace lecture in the colleges and churches during the 2020-2021 academic year. The C. Henry Smith Peace Lectureship is interpreted broadly to include related media through which the peace witness can be communicated, such as drama, story and visual art as well as a more formal lecture. The lectureship should highlight a distinctive Anabaptist peace perspective. The deadline for completed application submission is Monday, Feb. 3, 2020. The announcement, application and proposal guidelines can be found at: myBluffton / resources / faculty resources.
Citizens' Climate Lobby
Learn the methods, goal, and values of Citizens' Climate Lobby as we launch a Findlay-Lima Chapter! Saturday, Feb. 8, 10 a.m. – 1 p.m. at the Bluffton Public Library (In the Monroe Room). ~ Dan Berger
We are beavers all!
WILMAR CAAL BOTZOC '21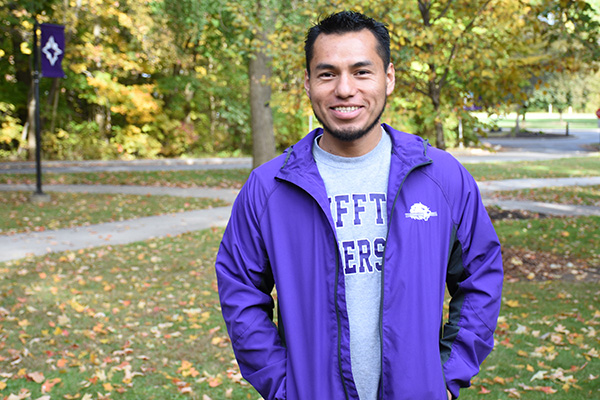 Junior Wilmar Caal Botzoc first stepped foot in the United States in 2011. A year later, he returned home to Guatemala only to be called back to the U.S. – solely to attend Bluffton University.
Wilmar's story