Special interest organizations

Brave Space
Advisor: Heidi Mercer, 419-358-3209
| | |
| --- | --- |
| President | Berlin Fuqua |
| Vice President | Alexis Cash |
| Secretary | Kori Frey |
| Treasurer | Kirk Kauder |
Brave Space is a student led organization that seeks to promote a positive and inclusive atmosphere by working to raise awareness of and support to students that identify as lesbian, gay, bisexual, transgender, on a continuum of sexual orientation and gender identity, and their allies (LGBT+). >>> Facebook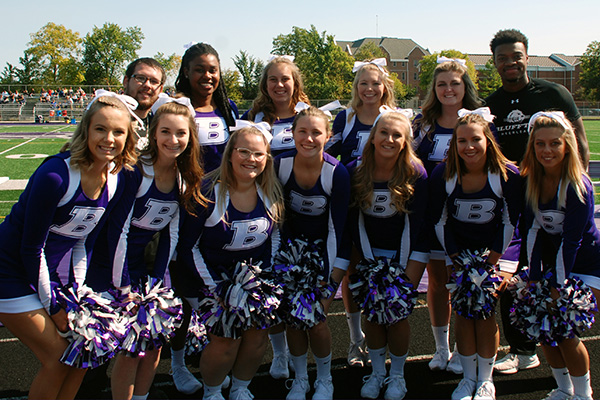 Interim Advisor: TBD
The Bluffton University cheerleaders lead the crowd and support their friends and classmates on the sidelines at football and basketball games.
More about cheerleading at Bluffton >
College Republicans
Advisor: Jason Swartzlander, 419-358-3406
The purpose of this organization is to make known and promote the principles of the Republican Party, to aid in the election of Republican candidates at all levels of government and to develop political skills and leadership abilities among Republican students as preparation for future service to the party and the community.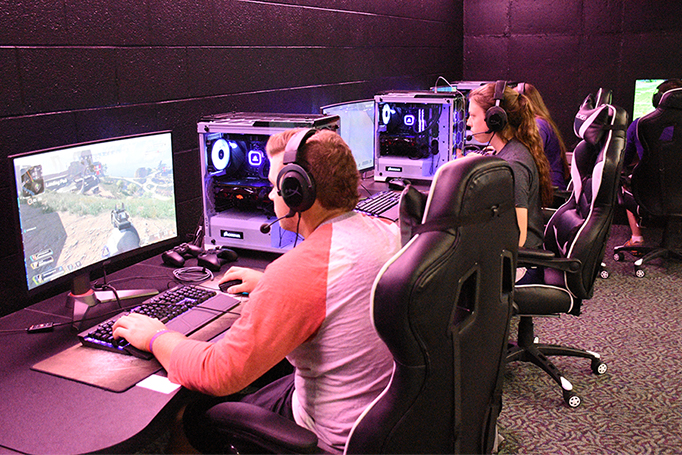 Esports
Adviser: Zachary Walton, 419-358-3082

| | |
| --- | --- |
| President | Nicholas Hoffman |
| Vice President | Nate Hendrix |
| Secretary | Sienna Sullivan |
| Treasurer | Connor Kaminicki |
Bluffton University's esports club seeks to create a competitive, yet supportive, environment in which students learn teamwork, leadership, strategy and real time problem solving skills through gaming events and competitions. Our esports group plays game like Madden, Overwatch, League of Legends, Rocket League and more!
Learn more about Esports at Bluffton >
Prospective students contact admissions counselor Sam Shrider to learn more about this program and Bluffton University.
GAMING CLUB
Advisor: Zachary Walton, 419-358-3082
The purpose of The Gaming Club is for Bluffton students to get together with each other and learn new games (both video and board games). The events that we would hold would be wind-down events for students to come and have fun playing games with others through a combination of board, video, card and trading card games.

Gender Perspective
Advisor: TBD

Bluffton University Gender Perspective serves both women and men by creating community and by bringing about awareness of topics of interest to women through activism and advocacy both on and off campus. Gender Perspective will be involved in outreach and consciousness-raising efforts and advocating for change where it may be needed to better the quality of all women's lives. At the heart of Gender Perspective's constitution is the belief that no one member is more liable or responsible for the organization's maintenance or activities. All members are equal in importance. In keeping with Bluffton's policies of respect and non-exclusion, all Bluffton students, whether female or male, are welcome to participate.


International Connection - Bluffton ICon
Advisor: Louise Matthews, 419-358-3207
Leadership Team:
Anteneh Asratu, Evan Burden,

Therisanyo Phetlhu and Luisa Rivera

International Connection [ICon] provides an opportunity for students to build relationships and cultural understanding through interaction with friends from around the world. All Bluffton students are invited to participate in weekly gatherings at The Lion and Lamb Peace Arts Center as well as other ICon-sponsored activities, both on and off campus. A weekly email keeps interested students informed of upcoming multicultural opportunities. Consider not only how you can benefit but recognize that your experiences and perspectives can also benefit others. Your involvement in ICon is welcome at any point during your Bluffton campus experience. Bring a friend and show up! Contact Louise Matthews to be added to the email list.


JAPANESE ANIME CLUB
Advisor: Zachary Walton, 419-358-3082
| | |
| --- | --- |
| President | Miriam Fike |
| Vice-President | Jenna Paul |

The purpose of this organization is to enrich the campus community by offering students the opportunity to learn about Eastern culture through films and DVDs which portray the unique religion, myths, art and history of Japanese culture.


Marbeck Center Board (MCB)
Advisor: Kevin White, 419-358-3218
| | |
| --- | --- |
| Chairperson | Brianna Baker |

Marbeck Center Board (MCB) serves as the main student programming group responsible for planning and executing events. The events are designed to cultivate community on campus through shared experiences.
While it operates out of Marbeck Center, MCB programs many activities including variety shows, game nights and traditional campus favorites like Dam Jam and Finals Breakfast. Marbeck After Dark (MAD) events occur every Friday night at 9 p.m. Build Your Own Aquarium, Chipotle Night, Tie-Dye, Harry Potter Night and The Roommate Challenge are just a few of the offerings during the school year. In addition, MCB hosts bingo with prizes of a different theme every Monday.
MCB membership is open to students from all majors and class standings. At least two seats on the board are reserved for incoming first-year students starting in the fall semester. Serving on MCB is just one more way students can answer the question, "How are you involved on campus?"
Check out the MCB Facebook page for event information!
Mascots: J Denny and Jenny Beaver
Advisor: Sara Kisseberth, 419-358-3484

J Denny and Jenny are ambassadors for athletics, admissions, advancement and student life. Do you want to get in the suit? Auditions are held annually following the "reveal" for the current year's mascots, typically in January or February. Performers must be full-time Bluffton students, maintain at least a 2.5 GPA and be in good disciplinary standing. Secrecy is a major part of performing as J Denny or Jenny Beaver. Tell no one that you are applying! The selection process includes a written application, in-person interviews with the selection committee and a final in-suit audition.
>>> more about Bluffton's mascots
>>> application process

Multicultural Student Organization (MSO)
Advisor: Tyson Goings, 419-358-3306
| | |
| --- | --- |
| President | Darian Greeley |
| Vice President | Tajah Upshaw |
| Secretary | Tailyn Houston |
| Treasure | Omar Warlick |
| Delegates | Flor Avilez Escoto and John Boyd |

Multicultural Student Organization is the sum of organizations formerly known as African American Student Organization (AASO) and The Bluffton Latina Society (BLS). The vision of Multicultural Student Organization is to shift from its exclusiveness and to bring together students of ALL cultures for the purpose of building awareness and promoting diversity in the Bluffton community. We hope to encourage better race relations and contribute to Bluffton University's anti-racism work on campus.


P.E.A.C.E. Club
Advisor: Paul Neufeld Weaver, 419-358-3327

President

Adam Shanahan

Treasurer
Ethan

Zaerr

P.E.A.C.E. stands for Peace Education and Action Community Endeavor. The organization's purposes are to educate students about current peace-related issues and to encourage and organize appropriate action in response to these issues through consciousness-raising endeavors.


Peer Awareness Leaders (PALs)
Advisor: Rae Staton, 419-358-3449
Peer Awareness Leaders (PALs) is a student-led organization that coordinates programming relevant to today's college students. Issues such as healthy relationships, substance use and abuse, mental health, suicide awareness and prevention, stress relief and domestic violence have all been the subject of events in recent years.
PALs members strive to be influential educators who bring a diverse awareness to the campus community so students may make responsible decisions. The organization is an extension of the Bluffton student life office and consists of student volunteers.

Rock Paper Scissors League
Advisor: Kaylea Jachno, 419-358-3898
The Bluffton University Rock Paper Scissors League is a competitive RPS league that was created in order to build friendships and meet new people, while having fun with competitive RPS!
| | |
| --- | --- |
| Chairman | Zachariah Boch |
| President | Carter Ritchey |
| Vice President | Noah Heiing |
| Secretary | Jenía Freewalt |
| Treasurer | Caitlin Bennett |

SERVE
ADVISOR: Holly Metzger, 419-358-3297
| | |
| --- | --- |
| President | Brittany Howe |
| Vice President | Anneliese Horner |
| Secretary | Amy Marshall |
| Treasurer | Joey Morrison |
SERVE is a service-oriented group which promotes missions and service opportunities for students off-campus in the local area and beyond. Special on-campus mission awareness days and acts of service to the campus community are also planned and implemented.


The Student Alumni Association
Advisor: Claire Clay
| | |
| --- | --- |
| President | Heather McConnaughey |
| Vice President | Kimberly Hetrick |
| Secretary & Treasurer | Raya Beerbower |
The Student Alumni Association at Bluffton University, in accordance with the mission and goals of this institution, is committed to strengthening relationships between current students, alumni and the university, and developing an awareness of the importance of supporting Bluffton University and preserving its traditions. Its members will support events created for students and alumni and encourage participation in and interaction at such activities helping to cultivate relationships and to communicate the importance of stewardship to the university.


Student-Athlete Advisory Committee (SAAC)
Advisor: Amanda DeMoine
| | |
| --- | --- |
| President | Abigail NewKirk |
| Vice President | Brianna Baker |
| Campus Coordinator | Garrett O'Reilly |
| Treasurer | Patrick Spillman |


Sustainability Club
Advisor: Jonathan Andreas, 419-358-3290
| | |
| --- | --- |
| President | Cassie Reinhart |
| Vice President | Courtney Perry |
| Secretary | Jenny Dorsey |
| Treasurer | John Hipp |

The Sustainability Club is a group of students that meets to coordinate efforts on projects to improve the environmental sustainability of Bluffton University. Members come from a variety of backgrounds, majors and interests, and one does not have to know anything about sustainability before joining. The club focuses on collaborating on student-led projects that can change Bluffton and on educating the student body on conscious living in regards to creation. The type of projects undertaken by the club will vary depending on the various interests of members, but can include projects such as an annual Sustainability Report, energy saving challenges and an educational week.
>>> Sustainability Club website
Tennis Club
Advisor: Louise Matthews, matthewsa@bluffton.edu
Want to enjoy the outdoors and play tennis? Sign up for Tennis Club! Interested students will arrange playing times to fit their schedules.


Ultimate Frisbee
Advisor: Darryl Nester, 419-358-3483

The purpose of this club team is to have fun and fellowship while playing Ultimate Frisbee competitively with peers at Bluffton as well as at other schools. >>> Facebook


Young Americans for Liberty
Advisor: Jason Swartzlander, 419-358-3406
This organization seeks to train, educate and mobilize youth activists committed to "winning on principle" and to cast the leaders of tomorrow and reclaim the policies, candidates and direction of our government.


Young Democrats
Advisor: Perry Bush, 419-358-3278
The purpose of the Bluffton University Young Democrats is to pursue the ideals of liberty, justice and freedom for all. The pursuit of these ideas is through support of the Democratic Party and its ideas, ideals and candidates.