Current Students
Events happening this week and next!
Wellness Week
Monday, Feb. 17- Thursday, Feb. 20
Hosted by Student Senate
Mental Health Awareness Events all week long. Refer to the schedule placed in your mailbox for more info!
Colloquium
Friday, Feb. 21, 4 p.m., Centennial Hall, Stutzman Lecture Hall
"Inside Job: An Integrated Approach to Personal Branding"
Marathana Prothro
Arts and Lecture Credit available
Marbeck After Dark
Friday, Feb. 21, 9 p.m., Bob's Place
Netflix and Chili!
Exhibit Reception
Sunday, Feb. 23, 1-3 p.m., Grace Albrecht Gallery, Sauder Art Center
Reception for "Human Targets" exhibit by George Cooley & Margaret Brostrom
Arts & Lecture Credit available

Winter Concert
Sunday, Feb. 23, 2:30 p.m., Yoder Recital Hall
Winter Instrumental Concert
Arts & Lecture Credit available
Lip Sync Battle
The event will be Wednesday, Feb. 26. Check out some clips from last year's event provided by The Wit. http://blufftonwit.com/mcb-and-mso-host-lip-sync-battle/
OTHER IMPORTANT EVENTS
Spring Break housing
If you need to stay on campus over spring break, you will need to complete an extended stay form by Wednesday, Feb, 26. If you have not completed the extended stay form and been approved to stay on campus, you will not be able to access your room. You can fill this out by logging into your my.bluffton.edu account, clicking on the Student Life tab, and filling out the "Extended Stay Request Form" on the lefthand side. If you are not planning to stay on campus over spring break, you will need to be out of the residence hall by 6 p.m. on Friday, Feb. 28. Halls will reopen at 2 p.m. on Sunday, March 8.
Kit Guide Recruitment
As a Kit Guide, you will have significant interaction with our new students and their families. You will be assisting with the registration process, facilitating discussions and activities, and conversing with new students and parents throughout the day. The first Registration & Orientation Day is Friday, April 4.

Applications are available across from the Marbeck Information Desk or request by e-mail (orientation@bluffton.edu). Applications due Feb. 7.

New study abroad opportunity
Bluffton students now have the opportunity to spend a semester studying in Greece at our partner school, the American College of Greece (ACG). ACG offers a full range of courses taught in English. Bluffton students pay Bluffton tuition and for room and board in Greece. For more information on how you can spend a semester in Greece, contact Elaine Suderman at sudermane@bluffton.edu or 419-358-3360. Will you be the first Bluffton student to study at ACG?
Student organization spotlight
SERVE
Bluffton's SERVE student organization is part of campus ministries and is based on Bluffton's core value of service. We provide opportunities for students, staff and faculty to give back to their communities both on and off of campus. SERVE holds events including trash pick-up day, Christmas decorating at Maple Crest and volunteer opportunities at nursing homes. "Love your neighbors as yourself." Luke 10:27
SERVE will be travelling to Greenbrier, W.V., over spring break to serve with Mennonite Disaster Services (MDS) to do storm relief work for homes damaged during severe storms and flooding from 2016 that left many displaced. Holly Metzger, SERVE advisor, will be leading 14 students on the trip. We are excited to serve the residents of Greenbrier County not just by helping to repair homes, but to share the love and peace of Jesus Christ with the community there.
Contact Holly Metzger at metzgerh@bluffton.edu, Brittany Howe at howbea@bluffton.edu or the SERVE email Serve@bluffton.edu for more information or to be added to the SERVE email list to be updated about upcoming events.
We are beavers all!
Beaver reveal 2020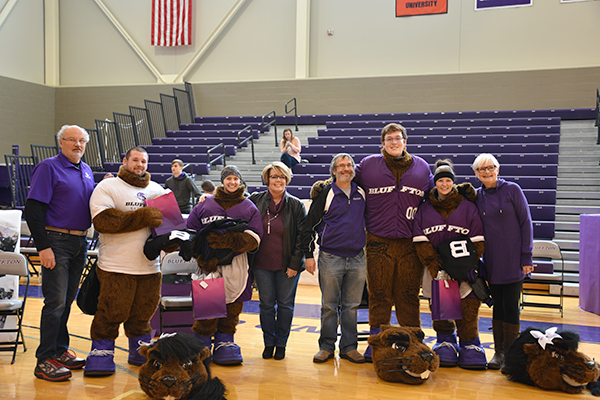 Perhaps one of the most tightly guarded secrets at Bluffton University is the identities of J. Denny and Jenny Beaver. Even the closest of friends, roommates and family members of the students who portray Bluffton's mascots may have no idea who is actually in the suit. The Reveal >>>