---
Bluffton Bread Company provides hands-on exerience for students from several majors.
Bluffton Bread Company
Slice. Share. Celebrate.
Today, our students are learning through experience. From dietetics majors perfecting the recipes with wholesome ingredients to our business students developing marketing and business plans, Bluffton Bread Company is an example of the great things happening at Bluffton under the guidance of our expert professors.
A limited number of specialty loaves will be available to purchase for Christmas and Mother's Day meals and gifts. Bread will be baked by select Bluffton University Food and Nutrition students and mailed fresh to your door. Once they are sold out, they are sold out.
Sign up below for an email notification the next time bread will be available.
Rumor has it that Triple Chocolate Bread will be available for cash and carry the week before Valentine's day. Check back for details as they are finalized.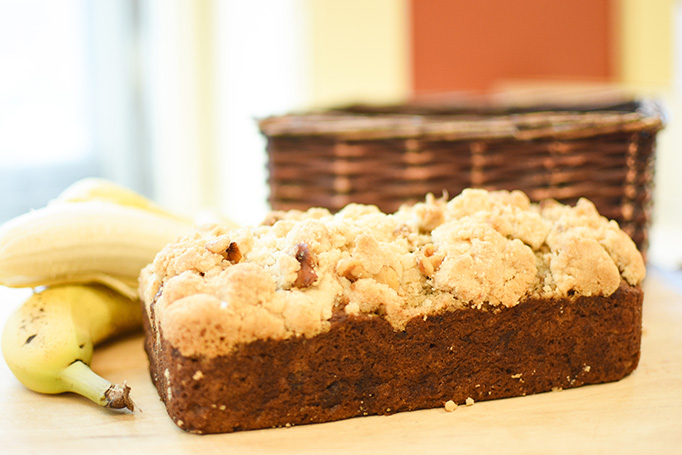 With six bananas baked into each loaf, our banana walnut bread provides a delicious combination of rich banana flavor with a warm nutty crunch. Not your everyday banana bread, this loaf includes a sugar cookie crumble for an extra layer of sweetness on top of this already delightful recipe. Our banana walnut bread is sure to be a staple in your pantry. Ingredient list
Filled with a warm blend of cinnamon, cloves and nutmeg, our spice-filled pumpkin bread will transport you to the middle of a perfect fall day no matter the season. Topped with a decadent New York style crumb featuring cinnamon, butter and cake flour, our pumpkin bread is the perfect treat to share with family and friends. Ingredient list
A savory choice, our asiago cheddar bread combines the richness of asiago and cheddar cheeses with a hint of buttermilk. Literally packed to the brim with cheese, this loaf is surrounded by a crust of parmesan and cheddar. Sprinkled with a dash of cayenne, we promise this bread is not too spicy, but instead will be a showstopper at any event. Ingredient list
Thank you for supporting Bluffton Bread Company. Due to the nature of our business and products we sell, all sales are final. Please contact Bluffton Bread Company at blufftonbread@bluffton.edu with any concerns about your order.
email me when orders will be accepted.
Bluffton Bread Company will be open for business just a few times a year. Online orders will be accepted for Christmas and Mother's Day.
Want to be in the know for when bread will be baking? Sign up to receive an email notice so you can be sure to get the loaf (loaves) of your favorite bread!
For more information, please contact Jeanna Haggard, assistant professor of food and nutrition, at blufftonbread@bluffton.edu.