---
"I really like the music aspect of worship services. That's when I feel the closest to God, and I realized I want to do that as a job."
---
Bluffton is an Ohio Music Educators AssociationCorporate/Institutional Partner.
Music
Because Bluffton is an accredited institutional member of the National Association of Schools of Music and an All-Steinway School, you can be assured that you will receive a quality musical education. Bluffton's music department is unique from other liberal arts schools in that:
Majors

Minor

Music*

with concentrations in

business

general studies

music ministry

performance

piano pedagogy


* The music major can be completed in 3 years.
Music major/minor
The music major, with five possible concentrations, prepares students for entry-level positions in fields such as church music or music retailing. The curriculum requires 45 semester hours in music and allows time to complete a second major in another department. Each concentration maintains a common core of music theory, music history, piano and applied study.
Many Bluffton music graduates have gone on to complete master's and doctoral degrees.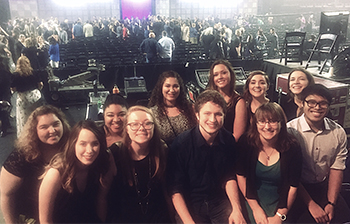 Brianna Keith studied for a semester at the Nashville Contemporary Music Center on the technical track. She directed stage management for the performance tour at the semester's end.
"We got 16 credits while there. However, we didn't take tests, we didn't have homework and we didn't take notes. Everything was memorize this, learn how to do this. It was all hands on."
Business

allows you to specialize in a variety of areas artist management, arts administration, music retail or recording.

General studies provides you the opportunity to specialize your music learning experience.
Music ministry prepares you for leading music in the worship service as well as participating in worship planning.
Performance studies provides an opportunity for you to develop skills in a performance area, preparing you for graduate study.
Piano pedagogy is the study of piano teaching. This concentration ensures that you will develop your teaching and business skills so that you will be successful in the area of private teaching.
This major can be completed in three years if you are a dedicated and ambitious student.
Complete a major in music in four year with the following guildlines for students beginning fall 2019 and after.

Music education
MULTI-AGE: MUSIC EDUCATOR LICENSURE
The music education major is a licensure program that meets the Ohio licensure requirements and prepares students to teach both vocal and instrumental music pre-kindergarten through grade 12. Bluffton University music education majors have earned a reputation for excellence in Ohio public schools.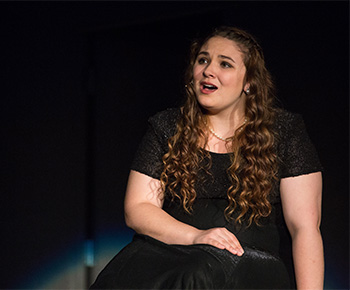 Kimberly Meyer, a music and music education double major, decided to step outside of her comfort zone by completing her student teaching experience in a completely new setting—Chicago.
"The more I learned about the Chicago program, the more I knew this is what I wanted to do."
>>> Kimberly's story
Explore the courses required for a
Major in music education
Complete a major in music education in four year with the following guildlines for students beginning fall 2019 and after.
Worship arts major/minor
Worship arts incorporates existing classes from the music, religion, art and communication and theatre departments, and prepares students for church positions and/or seminary. It will also bolster cooperation and increased involvement in chapel and campus ministry programs.
It is essential that students majoring in worship arts have a solid grounding in theology and be proficient in various musical areas, visual art, communication and theatre. While a worship arts major will be housed in the music department, it is a multi-disciplinary program that brings together multiple academic departments and the area of campus ministry.
Want to learn more about Bluffton?