Marbeck Center Facilities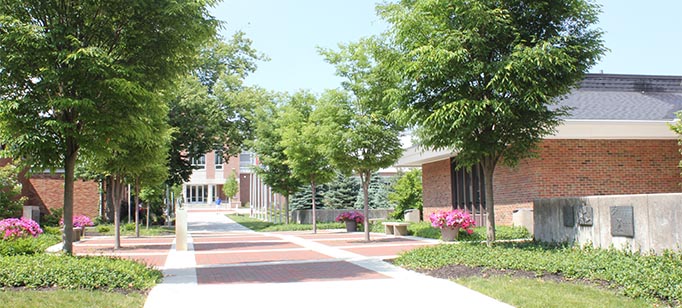 Click the links at the right to learn more about the different facets of Marbeck Center and to meet the people who make it all happen in the building.
In addition to dining services and meeting rooms, Marbeck Center is home to several unique areas of campus including Bob's Place, Klassen Court, and the international flag pole display.
Klassen Court
Klassen Court is the courtyard between Marbeck Center and Founders Hall. The courtyard features the artwork of John Klassen, a faculty member at the college from 1924-58. Some of Klassen's pieces can be found here and in other areas on campus.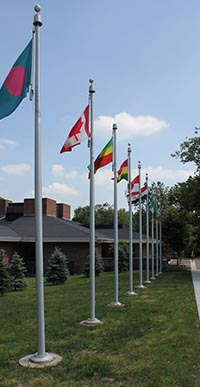 International Flag Poles
Lining the walk between Marbeck Center and Sommer Center are ten flag poles which fly the flags of the home countries of many of our students. The flags are rotated throughout the year with the cooperation of the International Connection student group to be sure to display the home flag of each international student. In the fall, the flags of new international students are flown, while graduating students' flags are displayed throughout the spring months.
Bob's Place
Opened in the spring of 2003, Bob's Place is the one gathering area with extended hours to meet student study and recreation schedules. Featuring food, games and entertainment, Bob's Place is the hot spot for students to hang out, study and socialize. It is the premier campus location for a variety of student activities and events. A fireplace, computers, televisions and games are a few of the features of this area.
Bob's Place games include all of the classics, such as pool, table tennis, air hockey, foosball, and the campus favorite carpet ball. Bob's Place also features wi-fi access, allowing student access to the campus computer network from anywhere in the facility including the outdoor plaza. Bob's Place features a full line of grill and snack items. Bob's Place, along with the Loft, is open until 1 a.m. every night during the school year.