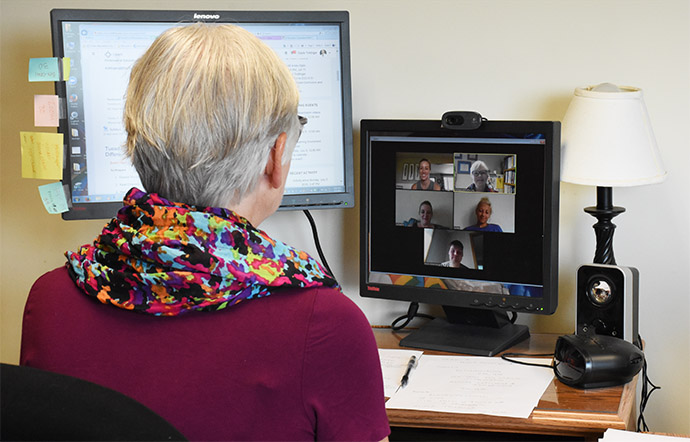 ---
Our education courses are offered online and self-paced; or online via Zoom Technology.
Graduate programs in education
Become a more knowledgeable educator and enhance the learning experiences in your classroom.
Courses offered can strengthen classroom teaching, be used for license renewal, expand options with additional endorsements or lead to a cost-effective, convenient and challenging graduate degree in education.
Opportunities
Earn a master of arts in education by completing six core courses and a concentration in intervention specialist, reading endorsement, faith-based education or leadership.
The faith-based, intervention specialist and reading endorsement concentrations may be completed as stand-alone programs. The intervention specialist and reading endorsement concentrations lead to an Ohio Department of Education teaching credential while the faith-based program is an outgrowth of the Anabaptist Learning Institute.
concentrations:
Faith-based education concentration
Bluffton's faith-based education concentration provides practical applications for teachers who are searching for a way to connect themes of peace, community and restorative discipline into their classes, no matter where they teach or the faith traditions of their students.
Reading endorsement
One of the most needed specializations in Northwest Ohio, providing the skills to identify literacy needs and adapt lessons to meet those needs.
Graduates must pass the appropriate state required exam and apply for the Ohio reading endorsement
Intervention specialist licensure
Bluffton's Intervention Specialist license emphasizes differentiation in the classroom.
Graduates must pass the appropriate state required exam and apply to the state for the intervention specialist license.

Leadership concentration
Bluffton's Leadership concentration focuses on the nature of supervisory relationships and the leader's level of self-understanding and emotional intelligence, and the role of the leader as an agent of change.
For more information about Bluffton's Graduate Programs in Education, contact
Office of adult and graduate studies
419-358-3897
or request more information online