Musselman Library
---
Within the scope of its resources and those to which it has access through cooperative agreements, the mission of the Musselman Library is to provide support for learning, teaching, and research for all the Bluffton University community. The library embraces the institutional mission and maintains a strong commitment to service.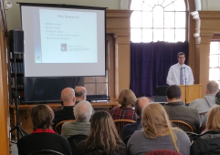 Arts & Lecture Events
---
The library hosts a number of Arts & Lecture credit events throughout the year.