Faculty and staff
Campus events happening this week and next!
Cross-cultural Presentations Forum, Jan. 29
Washington Community Scholars' Center participants
11 a.m., Yoder Recital Hall

Chapel, Jan. 31
"See Gut Do", Luke 7:11-17
Jim King '76, pastor, Ebenezer Mennonite Church
11 a.m., Yoder Recital Hall
Community corner
Bluffton Alumni: Join me and the alumni board at Southgate Lanes from 2-4 p.m. Sunday, Jan. 27, 2019, for a family bowling afternoon sponsored by your Alumni Association! Bring your kids and your best competitive spirit-the lanes, shoes and snacks are provided. Let us know if you'll be there - register today! If you have any questions, email me at clayc@bluffton.edu –Claire Clay '18, alumni relations manager and marketing coordinator

Book sale at the library!
The library is hosting a book sale Jan. 24-28 on the main floor. There will be bargains galore for the book lover with a wide array of titles from recent releases to collectibles! Books are $2 for hardcover, $1 for paperback, CDs, and DVDs, with some priced as marked. Most books and other items are gently used, not previous library. The opening for the sale is 8:30 a.m. today, and the hours for the sale will be in match to library hours. For questions, please contact Mary Jean Johnson, library director (johnsonmj@bluffton.edu or 419-358-3396).


Home athletic events happening this week and next!
Women's Basketball, Jan. 30
Vs. Mount St. Joseph
7:30 p.m., Sommer Center
Faculty Development Teaching and Learning Conversations
The Faculty Development Teaching and Learning Conversations are scheduled for spring! We will meet at noon in the Kreider Room. Please join us!

Feb. 22 – What are the "Best Places to Work?" Is Bluffton a "Best Place to Work?" – Scott Sharik

March 29 – Self Care in a Busy World – Heidi Mercer, Deanna Barthlow (emotional/psychological), Randy Keeler (spiritual), Deb Myers (nutrition), Audra Oglesbee (physical) (1/31)
Faculty/staff achievements
Randy Keeler gave a presentation to the Foundations group at Lima Community Church in Lima, Ohio, entitled, "The Christian's Engagement to Society," on Sunday evening, Jan. 6. The Foundations group consists of about 15 young couples with children who gather every other Sunday evening for a meal, discipleship and discussion. (1/31)

This spring Steve Harnish will mentor a $1,200 internship for Jarod Siekman's use of supercomputing resources at the Ohio Supercomputer Center. Jarod was awarded this NSF-funded internship despite a significant pool of applicants from larger universities. The award came through the XSEDE EMPOWER program of the National Computational Science Institute and the title of the project is "Computational Research in Number Theory: Initial and Middle Sums & Fermat's Last Theorem." (1/31)

Jeff Gundy's essay-review, "The Way We Live," on short story collections by Venita Blackburn, Jenn Scott, Margaret Benbow, Tony Ardizzone, and Lee Upton, is in The Georgia Review 72.4 (Winter 2018):1079-92. (1/24)
Live Well, Work Well Newsletter – January 2019
This month's Live Well, Work Well discusses fad diets, winter illness and post-holiday blues. Download now
Get to know Bluffton's faculty, staff and students…
Beaver reveal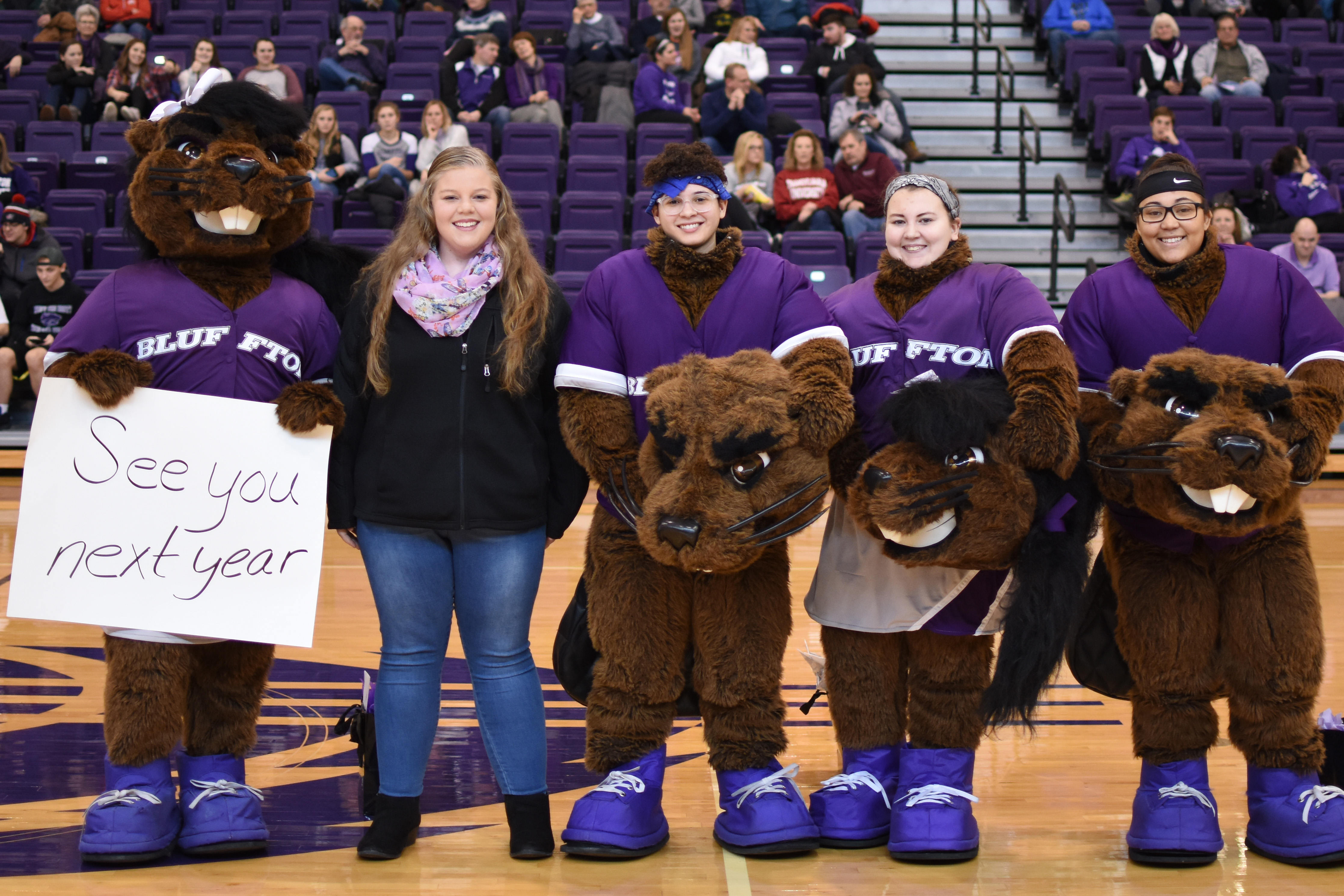 Perhaps one of the most tightly guarded secrets at Bluffton University is the identities of J. Denny and Jenny Beaver. Even the closest of friends, roommates and family members of the students who portray Bluffton's mascots may have no idea who is actually in the suit.