Faculty and staff
CELEBRATE THE SEASON!
Finals Breakfast,
Tuesday, Dec. 11, 10 p.m., Commons
Handel's Messiah,
Sunday Dec. 9, 4 p.m., Yoder Recital Hall
Tickets required, available at http://tickets.bluffton.edu
Changes in our campus community
Tyson Goings has agreed to serve as the interim director of residence life. We have configured the interim position to allow for Tyson to do most of the duties as they existed previously but also continue his good work with the Multicultural Student Organization as well as with students involved in our peer mentoring project (Project HOME). He will no longer be serving in the coaching or counseling capacity while serving in this interim role. Tyson will be assuming this duty officially when we return in January. Julie DeGraw will be serving in the role over the holiday break from December 13 until we return in January so please contact me if you have any issues or concerns during this time.
Lincoln Hall Update
Work has begun by utility companies to disconnect utility service to Lincoln Hall in preparation for more extensive demolition work to begin next week. The tentative schedule for the demolition is as follows:
Dec. 17 – Site preparation including construction fencing, sidewalk removal and trimming of the historic oak trees by arborists from Davey Tree
Jan. 2 – Building demolition
Jan. 7 – Debris removal
Jan. 14 – Building pad fill
It is expected that Rosenberger Drive will remain open through the building demolition stage. There may be periods where the road will be temporarily closed or blocked by construction equipment. When debris removal begins on Jan. 7, Rosenberger Drive will likely be closed to traffic from that point forward.
Are bricks going to be made available?
We will be setting aside some bricks that will be made available for pickup on campus, likely around May Day weekend. Stay tuned for more information on this.
Will there be a webcam to watch the demolition and future construction?
A webcam will be available for those interested in watching the demolition and the future construction. Once the webcam is in place and live, a link to the site will be sent out for interested people to follow the progress.
Live Well, Work Well Newsletter – December 2018
This month's issue of the Live Well, Work Well newsletter provides tips for sticking to an exercise plan during the winter months, discusses how your cellphone may be covered in bacteria and highlights ways to fight holiday stress.
Download now
Get to know Bluffton's faculty, staff and students…
Hannah McBride '20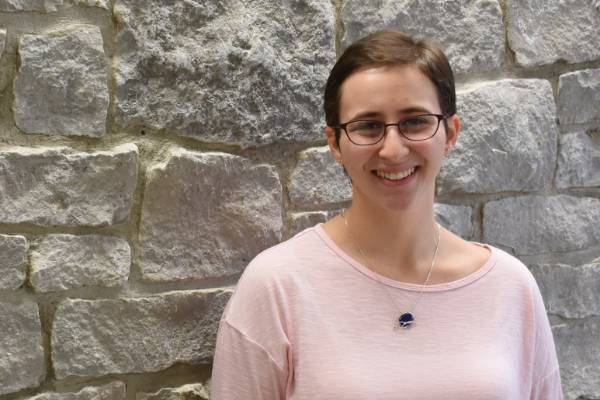 Hannah McBride, a junior from Port Clinton, Ohio, says, "I really like the music aspect of worship services," explained McBride. "That's when I feel the closest to God, and I realized I want to do that as a job.
Hannah's story>>>