Intervention specialist
Mild to Moderate Educational Needs (ages 5-21, grades K-12)
Students prepare to teach in the area of special education by completing course requirements for the intervention specialist major. This program provide preparation to teach children in grades K-12 with mild/moderate special educational needs, including children with learning disabilities, developmental disabilities and emotional/behavioral disabilities, with emphasis on inclusive practice. >>>occupational outlook
Did you know Bluffton offers a 3+1 program to help you complete a bachelors for intervention specialist and a Masters of Arts in Education with reading endorsement in just four years? Learn more!
---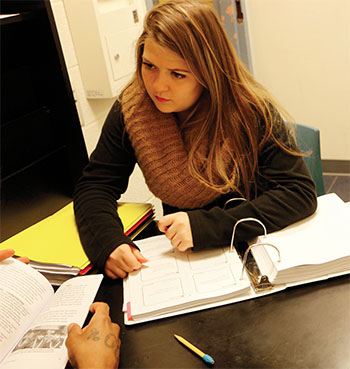 Our students
Education majors taking Phonics at Bluffton can choose the Allen County Juvenile Detention Center for their site selection. Claire DeOrio '17 is one Bluffton student who volunteered at the detention center for three semesters.
"The Bluffton students are learning a lot about themselves, they're learning about incarcerated youth, they're learning about the reading process and they're learning about the importance of relationships." >>> Claire's story
---
Explore courses for a
A four-year COURSE PLAN is provided as a guideline for course selection leading to an intervention specialist major.
Want to learn more about Bluffton?