Current students
What's happening on campus?
Home athletic events
Baseball vs. Anderson (DH), April 24, 1 p.m.
Baseball vs. Ohio Northern, April 26, 4:15 p.m.
Baseball vs. Rose-Hulman, April 28, 12 p.m.
Softball vs. Rose-Hulman, April 28, 1 p.m.
Blood Donation
There will be a blood donation opportunity from 10 a.m. to 3:30 p.m. Tuesday, April 24, at Sommer Center.
ACADEMICS AWARDS FORUM
11 a.m., April 24, Yoder Recital Hall
Thursday April 26
Thursday, April 26, will have a Monday class schedule for undergraduate students.
LitFest!
Friday, April 27, 7-9pm, Bob's Place
"Bridge: The Bluffton University Literary Journal," hosts a collaborative reading night. Come out and listen to students read their original works of prose, poetry, nonfiction, songwriting and more! Or, sign up at 6:45 to read your own works! Arts and Lecture credit is available, as well as light refreshments and door prizes.
Clothes Collection
The social work club is collecting new or gently used clothing items of all sizes for St. Rita's emergency room. Donation boxes are located in all dorm lobbies and the main floor of Centennial Hall.

[title of show]
The May Day musical is Friday, May 4, at 7:30 p.m. in Yoder Recital Hall. Purchase tickets
ART EXHIBIT
The 51st annual Juried Student Exhibit featuring works by Bluffton University students will be displayed through May 6.
Albrecht Gallery, Sauder Visual Arts Center.
NEED A JOB NEXT YEAR?
The Technology Center is hiring for fall 2018. If you are interested, email karcherr@bluffton.edu
We are Beavers All!

Hannah Brown '20, a graphic design major, traveled more than 1,000 miles away from home with the help of a little pixie dust to take part in an extraordinary internship experience.
"Walt Disney was 100 percent right when he said, 'If you can dream it, you can do it!' This program has taught me more than I could ever imagine."
>>> Hannah's story

>>> study graphic design
student Billing policies
Choose your payment plan for 2017-18 and learn more about Bluffton's billing and refund policies.
>>> Student billing
Life after Bluffton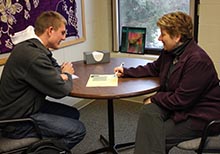 New student forms
In an attempt to make the paperwork a bit easier, all the forms you'll need are compiled on one webpage.