Current students
What's happening on campus?
Home Basketball Games
Jan. 24, 7:30 p.m. Women vs. Earlham
Jan. 27, 1 p.m., Women vs. Hanover
Jan. 27, 3 p.m., Men vs. Earlham
Art Exhibit
"Borderline Objects" by John Dickinson, a 2D and 3D mix artist. The exhibit opens Jan. 10 and is free and open to the public through Jan. 26. A reception for the artist will be held from 1-3 p.m. on Sunday, Jan. 21 in the Grace Albrecht Gallery.

THEATRE
Bluffton University will host the play This Will Lead to Dancing on Tuesday, Jan. 30 at 7:30 p.m. in Ramseyer Auditorium. Written by Johnny Wideman, directed by Erin Brandenburg and performed by Canadian theatre company Theatre of the Beat, this play explores issues of LGBTQ inclusion in churches.
Arts & Lecture Credit available.
Celebrate the Library
Musselman Library will host its fifth annual Celebrate week during February 5-9. Celebrate library resources and services, student research and creativity, teaching, learning, and more. Check out the activities available throughout the week!
>>> Celebrate Week events
We are Beavers All!

Nathan Otto '18, a middle childhood education major, spent the fall semester in Chicago for his student teaching experience. "I knew this was an opportunity I might not have again, and I wanted to get out of the area and experience something totally new."
>>> Nathan's story
Explore opportunity at Bluffton University
student Billing policies
Choose your payment plan for 2017-18 and learn more about Bluffton's billing and refund policies.
>>> Student billing
Life after Bluffton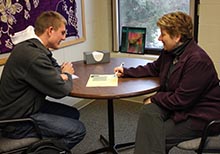 New student forms
In an attempt to make the paperwork a bit easier, all the forms you'll need are compiled on one webpage.