Student Life
Live in community.
Thrive in relationships.
At Bluffton, you will find that our community extends far beyond the classroom. With more than 60 student organizations; 30 music, visual arts and theatre events; and 16 intercollegiate teams on campus, you will find your place.
The Bluffton University Student Life Division, in collaboration with staff and faculty colleagues, strive to challenge and support student learning, discovery and growth. Using theory and best practices, the division serves as a key resource and advocate for the holistic development of all students and create a safe, welcoming and diverse environment.
Emergency contact system
Bluffton students, faculty and staff are encouraged to sign up to receive text-message or e-mail notifications in the event of an emergency on campus. >>>more
Career Development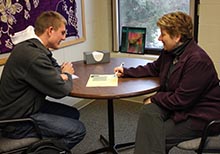 The Center for Career and Vocation is not just for seniors! Services are available to provide guidance throughout your collegiate experience and beyond.
Living on campus
At some point, you may need information about emergency contacts, campus standards, health & counseling services or maybe just what's for dinner.
>>> more