History major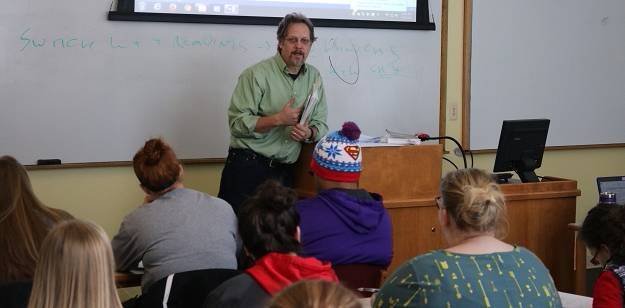 One of the virtues of the history major at Bluffton is its flexibility. Requiring a total of 40 semester hours, the major itself remains small enough to combine with another major or a combination of minors to speak to your individual career interests.
History classes at Bluffton are frequently revised to reflect new sources and interpretations. As a history major, you will be encouraged to intern with a local or state historical agency or museum. Advanced students may assist professors with research projects and will be encouraged to complete departmental honors research projects.
---
Our students
Kenny Beeker, a senior communication and history double major from McComb, Ohio did a three-month Community Heart and Soul internship.
"I've learned a lot about working with a large, diverse group of people. I couldn't do this without the skills I developed both in communication and in history at Bluffton—from being able communicate effectively to being able to analyze data." >>> Kenny's story
---
While the history major remains excellent training for law school, students aiming for a career in law-related fields can major in any number of areas. Students interested in a career in law are strongly recommended to complete the pre-law minor.
With a history major, your career options are numerous. You will be prepared to enter careers in business, secondary education or voluntary service, or graduate programs in history, law and library science. >>>occupational outlook
This major can be completed in three years if you are a dedicated and ambitious student.
Explore courses in the
Four year plans provide guidelines for course selection leading to a history major, beginning in the odd year, or even year
Want to learn more about Bluffton?