Education department
Through Bluffton's Educator Preparation Programs, you will be prepared to create communities of learning and respect in your classroom. Bluffton graduates are among the best qualified in the nation, as reflected in student rankings on the Ohio Educator Preparation Performance Report and in the reputation our graduates enjoy once they enter the teaching profession.
What's special about our programs?
---
Bluffton University provides educator preparation programs at the baccalaureate and master's degree level that are approved by the Ohio Department of Higher education and include a minimum of 12 weeks of full-time pre-service clinical experience.
You will apply for admission to the Educator Preparation Programs in EDU 200 Introduction to Teaching, taken during your first or second semester on campus. Additional information about Bluffton's Educator Preparation Programs is available in the Educator Preparation handbook.
---

The traditional route to becoming a teacher in Ohio involves completing a bachelor's degree then obtaining a teaching license from the Ohio Department of Education. >>>occupational outlook
Learn more about education majors and minors offered at Bluffton:
EARLY CHILDHOOD EDUCATION, MIDDLE CHILDHOOD EDUCATION, ADOLESCENT/YOUNG ADULT EDUCATION (Integrated language arts, Integrated mathematics; Integrated social studies), MULTI-AGE (Music, Visual arts), INTERVENTION SPECIALIST, CHILD DEVELOPMENT, TESOL ENDORSEMENT and MINORS (Education studies, Special education.)
Early childhood education (Pre-K to grade 3)
Students earn a license to teach in preschool through grade 3 by completing an early childhood education major. This license prepares you to teach both typically developing children as well as children with mild-moderate disabilities and provides particular focus on teaching reading to young children.
You will be strongly encouraged to complete the
early childhood generalist endorsement
to also teach in grades 4 and 5. This is in preparation for proposed changes in the state licensure which will expand the early childhood education license to pre-K to grade 5.
Did you know Bluffton offers a 3+1 program to help you complete a bachelors in early childhood education and a Masters of Arts in Education with reading endorsement in just four years?
Learn more!
---
Our alumni
When Judy (Mull '63) Pierman sees a need, the recipient of the 2016 Lifetime Service alumni award seeks a solution. The need could be quality preschool education, or understanding English. What began as a volunteer position teaching literacy in the workplace, became a career with the Hispanic Human Resources Council.
"Our mission is to prepare children to go to school speaking English while maintaining their home language." >>> Judy's story
---
EXPLORE THE COURSES REQUIRED FOR A
A license for teaching in the middle grades (grades 4-9) can be achieved by completing a middle childhood education major.
YOU WILL BE REQUIRED TO SELECT AT LEAST TWO AREAS OF CONCENTRATION.
You may earn a middle childhood generalist endorsement by completing all four areas of concentration.
>>>occupational outlook
---
Our students
While many students choose to teach close to home, Nathan Otto '18, a middle childhood education major, decided to take the chance to experience not only what it's like teaching in an urban environment but also living in one.
"I knew this was an opportunity I might not have again, and I wanted to get out of the area and experience something totally new."
>>> Nathan's story
---
Explore courses for a
AGES 12-21 AND GRADES 7-12
At Bluffton, you may choose a licensure program in one of three academic areas to teach in grades 7-12. An AYA teaching license requires completing a major in a content area, licensure requirements for that area and professional education courses. The areas in which an adolescent/young adult license may be earned include
Integrated Language Arts
,
Integrated Mathematics
and
Integrated Social Studies
.
---
Our students
John Parent, a senior English major with a concentration on adolescent/young adult education, is not only a full-time student at Bluffton but also a husband, a father of seven, a full-time regional sports editor and currently the active mayor of Delphos.
"It's a teacher's job, not only to prepare students for learning the material, but prepare students for life after high school and how to be successful adults no matter what they're going into."
---
Explore courses for
AGES 3-21, GRADES PRE-K THROUGH 12
Students may choose a teaching licensure program in specific areas, which permits teaching across a broader age range in either music or visual arts.
Multi-age licensure programs are offered in:
Explore courses for
MILD TO MODERATE EDUCATIONAL NEEDS (AGES 5-21, GRADES K-12)
Students prepare to teach in the area of special education by completing course requirements for the intervention specialist major. This program provide preparation to teach children in grades K-12 with mild/moderate special educational needs, including children with learning disabilities, developmental disabilities and emotional/behavioral disabilities, with emphasis on inclusive practice. >>>occupational outlook
A special education minor is offered for students who are interested in working with people with disabilities whether in their major field or as a service.
Did you know Bluffton offers a 3+1 program to help you complete a bachelors for intervention specialist and a Masters of Arts in Education with reading endorsement in just four years? Learn more!
---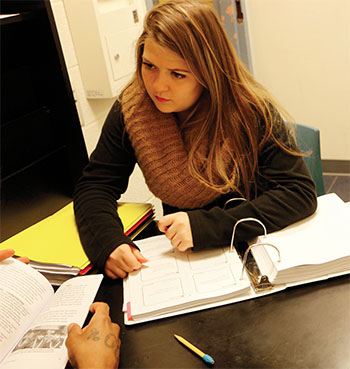 Our students
Education majors taking Phonics at Bluffton can choose the Allen County Juvenile Detention Center for their site selection. Claire DeOrio '17 is one Bluffton student who volunteered at the detention center for three semesters.
"The Bluffton students are learning a lot about themselves, they're learning about incarcerated youth, they're learning about the reading process and they're learning about the importance of relationships." >>> Claire's story
---
EXPLORE COURSES FOR A
Bluffton offers a major in child development. Highly motivated students may complete this major in 3 years. >>> more info
The child development major provides opportunities to study young children in a variety of settings. Coursework includes developmental curriculum, preschool classrooms and nutrition and opportunities to gain experience in various infant/toddler/early childhood environments.
Students also gain knowledge about working with young children outside the traditional classroom setting, such as day care, Head Start and other child development centers. While the major does not lead to licensure, one possibility would be to add a minor in business administration to learn to manage a small business. >>>occupational outlook
Explore the courses required for a
Students with majors outside the education department may minor in education studies or special education.
Explore a minor in:
EDUCATION STUDIES
For students who plan to work in settings where there are educational opportunities (e.g. training, tutoring, program development, religious education, etc.)
>>> course requirements
SPECIAL EDUCATION
For students who are interested in working with people with disabilities whether in their major field or as a service.


>>> course requirements
To contact the education department:
Email: education@bluffton.edu
Phone: 419-358-3331
Fax: 419-358-3074
Want to learn more about Bluffton?
Classroom experience
Bluffton is different in that you get hands-on experience (also called field experience) in a classroom beginning as early as your first year in the educator preparation program.
Student Teaching in Chicago
Bluffton partners with the Chicago Center for Urban Life and Culture to offer student teaching opportunities in Chicago, Ill. The program also fulfills Bluffton's cross cultural requirement.


accreditation 2018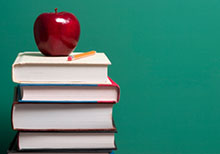 On April 30, 2018, the Accreditation Council of the Council for the Accreditation of Educator Preparation (CAEP) granted the Bluffton University Education Department Accreditation at the initial-licensure level with no areas for improvement (AFIs). Status is effective Spring 2018 to Spring 2025.