Sport management major
Due to the increasing interest and participation in sport and physical fitness, there is a need for qualified leadership in the area of sport management. Graduates will find careers in athletic administration, corporate fitness, sporting goods retail, sports information, YMCA/YWCA and other similar opportunities.
---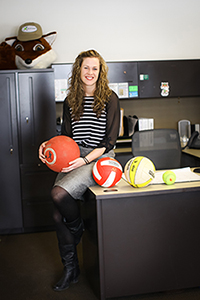 Our alumni
As a summer intern for the parks and recreation department in Green, Ohio, Bethany Behnfeldt helped with adult sports programs and assisted in setting up and tearing down for events. After finishing her academic coursework, she was immediately hired by Green and later promoted to full-time recreation coordinator.
"All the hard work I was doing in the classroom with support from professors just really paid off when it came to the internship." >>> Bethany's story
---

An integral part of the major an internship in a job setting. The sport management major incorporates courses in communication and business to offer concentrations in sport communication and sport organization.
Concentration options:
Sport communication:
Additional communication courses provide a foundation for a career in sports news writing, news casting or as a sports information director.
Sport organization:
Additional business courses provide an introduction to the management side of sports.
Explore the courses required for a
FOUR-YEAR PLAns are provided as a guideline for your course selection: sport management
Want to learn more about Bluffton?