Weddings & Banquets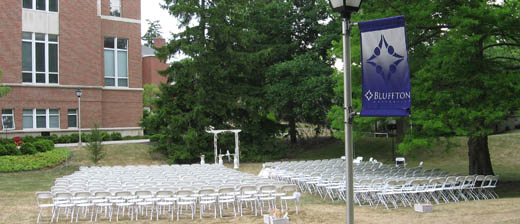 Every year Bluffton alumni and community members choose Bluffton University and Marbeck Center as hosts for their most special day!
In addition to a full-service reception facility, Bluffton boasts several unique areas on campus that have been used for wedding ceremonies, rehearsal dinners and more. Our campus green has hosted several wedding ceremonies in recent years while dining services staff members prepared our banquet room for the arrival of guests on a quick stroll up the sidewalk to the reception.
Catering services are provided by the professional staff with Bluffton University Dining Services, who have the ability to combine our own resources with those of our sister colleges in the area in order to provide a high level of quality and value to your reception. Our catering manager has experience working with numerous couples and families to ensure all aspects of your reception are coordinated with each other.
In addition to hosting wedding ceremonies and receptions, Marbeck Center has several rooms of various sizes that are perfect for campus and community banquets. Whether you're looking to entertain a small group of 20 or serve an organization of 200 or more, our facilities and catering staff are prepared. Room rates are reasonable and include any technology and A/V needs you may have. Contact our conferences staff to find out how we can best meet your needs.
Rates for facility use are competitive and all-inclusive.